Operation Brightside
Time to Order Bulbs from Brightside St. Louis
Order your flowers today and tell your friends.
Published: 09-01-2011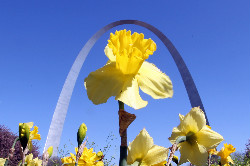 Brightside St. Louis wants you to know that it is time to order your flower bulbs for planting in October. You will get beautiful flowers at great prices and St. Louis benefits as the proceeds support Brightside's programs to make St. Louis cleaner and greener. In addition to planting millions of daffodils along St. Louis' highways, Brightside volunteers clean up and beautify Downtown and other city neighborhoods, and its crews removed unsightly graffiti from more than 120,000 vandalized homes, businesses and public areas.
Daffodils, tulips, crocus, daylilies and purple sensation alliums are available and guaranteed to bloom next year. Be sure to check out the exclusive Midwest Mix selected for Brightside by the Greater St. Louis Daffodil Society. These daffodils were chosen for their outstanding performance in the Midwest. The collection is only available through Brightside's Blooming Soon! flower sale sponsored by Wells Fargo Advisors.
Orders placed now will be available for planting in October to ensure a beautiful spring and summer full of color. You can pick up your flower bulbs in Forest Park or have them shipped.
Order your flowers today at http://www.brightsidestl.org/ or by phone at (314) 772-4646. And tell your friends! Brightside flowers make wonderful gifts, too.
More Stories
As designated by the American Veterinary Medical Association (AVMA), the week of May 19th-May 25th marks National Dog Bite Prevention Week.
Projects receive a two-year land lease and $5,000 seed money
National Police Week, house tours, festivals, service projects, Annie Malone Parade and more!