BUILD Grant Application
Jefferson Avenue & 20th Street Revitalization Corridors BUILD Grant Application
2020 Application
Jefferson Avenue and 20th Street Revitalization Corridors
Project Overview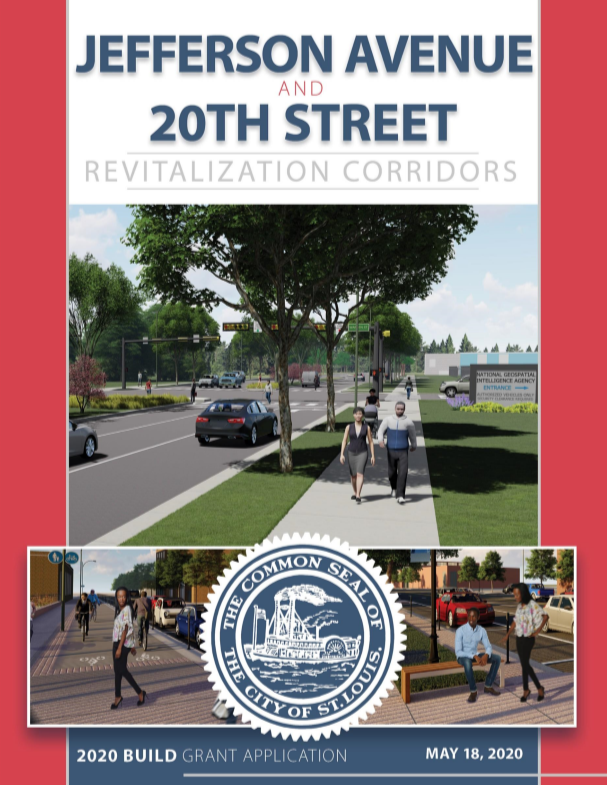 The Jefferson Avenue & 20th Street Revitalization Corridors BUILD project will reconstruct 2 miles of Jefferson Avenue to a Complete Street between Market Street and Natural Bridge Avenue in the City of St. Louis, Missouri. 
This project will also improve 20th Street to include new low-stress bicycle facilities between Market Street and St. Louis Avenue. The project includes signal improvements, stormwater improvements, pedestrian improvements, and aesthetic enhancements.
The revitalization of these corridors will help transform an area in North St. Louis that has suffered from decades of disinvestment and expansion of blight, creating economic and job opportunities for City residents.
Grant Application Package
Technical Analysis Support Files
Learn About Project Connect in North St. Louis
Project Connect is an Action Plan by the City of St. Louis and its residents that will connect current initiatives being proposed by both the public and private sector.
Project Connect will ensure coordination and collaboration between neighborhood revitalization, transportation, and other re-development efforts and the City's investments to support NGA.
Find out more on Project Connect