Community voting - St. Louis ReCAST
08/15/17, 2:00 PM - 5:00 PM
Help decide how $550,000 will be spent on projects for community well-being in the St. Louis Promise Zone. Projects will be funded in four areas: Mental Health, Youth Engagement, Peer Support, and Violence Prevention. Communty members will review propsal summaries from each area and vote on which projects they want to see implemented. 
To vote, you must be a St. Louis Promise Zone resident and 11 years of age or older. Residents can only vote one time.
*The Promise Zone encompasses St. Louis City Wards: 1-5, 18-19, 21-22, 26-27; and parts of St. Louis County, including the communities of: Bellerive Acres, Bel-Nor, Bel-Ridge, Berkeley, Beverly Hills, Cool Valley, Country Club Hills, Dellwood, Ferguson, Flordell Hills, Glen Echo Park, Greendale, Hazelwood, Hillsdale, Jennings, Kinloch, Moline Acres, Normandy, Northwoods, Pagedale, Pine Lawn, Riverview, University City, Uplands Park, Velda City, Velda Village Hills, and Wellston.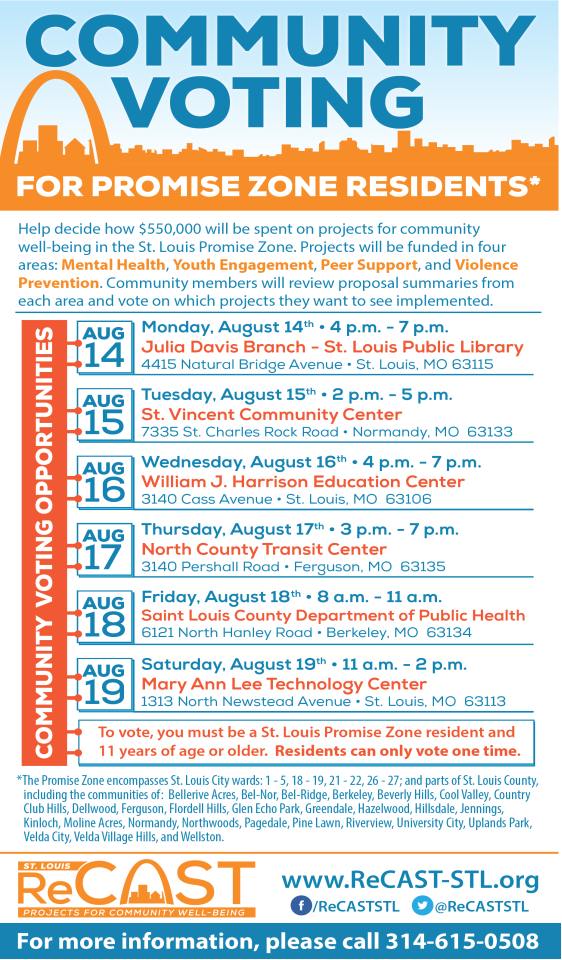 Location:
St. Vincent Community Center
7335 St. Charles Rock Road
St. Louis, MO 63133

Directions to this address
Contact Name:
St. Louis ReCAST
Phone:
(314) 615-0508
25 comments from people like you have helped us improve this page. Keep the feedback coming!