This article is 6 years old. It was published on October 4, 2016.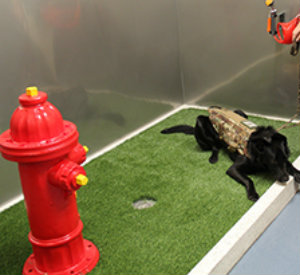 St. Louis - Lambert-St. Louis International Airport is making it easier for travelers with service animals with the debut of new indoor Service Animal Relief Areas (SARA) in each of the airport's concourses.
SARA's are now open in Concourse C (near gate C24) and Concourse A (near gate A16). The third SARA will open in Terminal 2 near gate E4 byOctober 14. These additional facilities will benefit passengers flying with service animals and pets because they can use the new facilities without having to leave the secured areas. The post-security facilities comply with new federal regulations for improved accessibility at major airports in the U.S.
"This is another step in improving the travel experience for all of our passengers, especially those who rely on service animals to travel," said Lambert Director Rhonda Hamm-Niebruegge. "Now those passengers with long layovers or connecting flights can more easily accommodate their animals with these new facilities without the hassle of going back through a security checkpoint."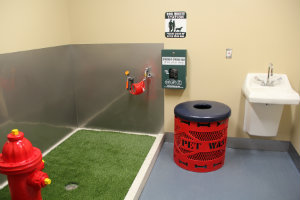 Each of the indoor SARA's features a 100 sq. ft. wheelchair accessible space that includes a low profile tub covered with artificial turf and a decorative fire hydrant. A hose attached to the wall allows for easy cleanup of liquid waste. A dispenser for bags allows passengers to dispose of animal waste. A sink is also provided for passenger use. Airport's janitorial teams will monitor the areas to maintain cleanliness.
Travelers still have the option to use the Airport's existing SARA's located outside Terminal 1 (Door 6) and Terminal 2 (Door 15) before or after a flight. Those facilities were installed in 2009.
Lambert-St. Louis International Airport is the 31st busiest airport in the U.S. as ranked by Airports Council International-North America. Lambert served more than 12.7 million passengers in 2015. For more information on flights and services at Lambert-St. Louis International Airport, log ontowww.flystl.com. Facebook/flystl; Twitter:@flystl