Lewis Reed
President of the Board of Aldermen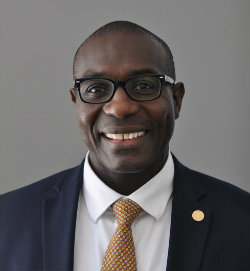 Lewis Reed has spent over two decades serving the people of St. Louis in elected office, civic and charitable involvement. He is currently the President of the St. Louis Board of Aldermen and serves as the head of the legislative branch of city government. Reed is the first African-American ever to be elected to this position. 
In his time in office, Lewis has championed many causes including funding recreation centers, creating a one million dollar annual recurring youth crime prevention fund, founding Bike St. Louis and the rebirth of Washington Avenue. He is responsible for passing legislation addressing crime prevention, creating opportunities for at-risk youth, environmental sustainability, as well as neighborhood and economic development. President Reed also passed legislation to establish the first dog park in the City of St. Louis.
Prior to becoming President, Reed served as Alderman for the 6th Ward for eight years. During his time as Alderman, he drafted and passed the first neighborhood-based TIF in city history, created over 130 miles of interconnected bike routes throughout the city and the region, added hundreds of new housing units throughout his ward and hundreds of millions of dollars in new development, sponsored legislation and worked to create development plans resulting in over $1.6 billion of development, all while keeping the 6th Ward one of the most diverse in the City.
In 2007, President Reed was selected by the Aspen Institute in a national search for the very best, brightest, and most promising members of America's emerging political leaders and named as an Aspen-Rodel Fellow. 
Before entering public service, Reed had a successful career in the private sector. He was the Director of Networks for the Edison Brothers Stores' worldwide operations. He also served as the Manager of Data Networks for SSM Health Businesses.
As a young man, Lewis attended Southern Illinois University on a wrestling scholarship where he majored in Mathematics and Computer Science.  
He has received many awards including: St. Louis Magazine, Cool 13; Gateway Classic, Citizen of the Year 2008; St. Louis Argus, 2007 Distinguished Citizen; St. Louis Port Council, Able Helmsman Award; 2008 Martin Luther King Jr. Conference, Man of the Year; Cardinal Glennon Hospital, Champion for Children; and the St. Louis Business Journal, 2009 Inclusive Leadership.
President Reed lives in the Compton Heights neighborhood with his wife of over 20 years, he has two sons and two daughters. He recently welcomed his new grandson.
Contact Information