Lewis Reed
President of the Board of Aldermen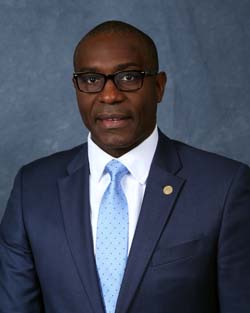 As a young man, Lewis attended Southern Illinois University on a wrestling scholarship. There he majored in Mathematics and Computer Science, a field he would go into professionally. As Director of Networks and Telecommunications for the Edison Brothers Stores' world wide operations, Lewis developed and managed an annual budget in excess of 3 million dollars, managed staff and renegotiated multi-million dollar worldwide contracts reducing cost and increasing production.
As the Manager of Data Networks for SSM Health Businesses, a billion dollar health care organization, Lewis developed and managed an annual budget in excess of 2.5 million dollars, and developed technology solutions to meet business goals. These technology solutions were regularly covered in the St. Louis Business Journal and Manufacturing marketing literature.
Public Service
Lewis represented the 6th Ward for nearly eight years. During his time as Alderman, he drafted and passed the first neighborhood based TIF in the history of the city; helped found the organization Bike St. Louis; added hundreds of new housing units throughout his ward and hundreds of millions of dollars in new development; and helped bring $1.7 billion of development to the city.

Additionally, he has served as the chairman of the St. Louis Port Authority, over-seeing riverfront property lease agreements and riverboat gaming tax revenues. He served on the board of directors of the St. Louis Development Corporations, overseeing city business development issues and minority business certification compliance. He additionally served as co-chair on the Ways & Means Committee, which oversees the city's $400 million dollar budget.
Contact Information