Comptroller's Office
Welcome to the Office of the Comptroller of the City of St. Louis.
Comptroller Darlene Green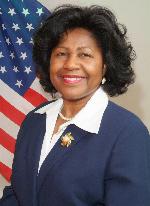 The Comptroller serves as the Chief Fiscal Officer (CFO) of the City of St. Louis and is a member of the executive branch of city government and the Board of Estimate and Apportionment. Comptroller Green is a city-wide elected official and directs her staff to assist in the city's daily financial operations and economic development strategies.   
Contact Information
Address:
1200 Market Street , City Hall, Room 212
Saint Louis, Missouri 63103

Get directions to this address