Pets In Hot Cars
Overheating is a real danger. Information on how to cool down your pet.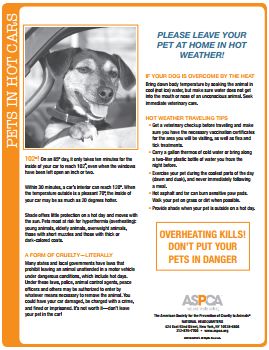 Publication Date: 06/19/2013
Document Type: Informational Pages
Sponsor: Animal Care and Control
Summary
Information on cooling down your pet and warning signs of overheating.

If an animal appears to be in distress or is unresponsive and it is between Monday-Friday 8:00am-5:00pm, please contact Animal Control directly at 314-657-1500.

If calling after hours or on weekends, please call 314-231-1212.
Download
Keep Pets From Overheating in Cars (528.69 KB)
Need Help Viewing?
You need a program that can open Adobe PDF files. A free option:
1 comment from someone like you has helped us improve this page. Keep the feedback coming!