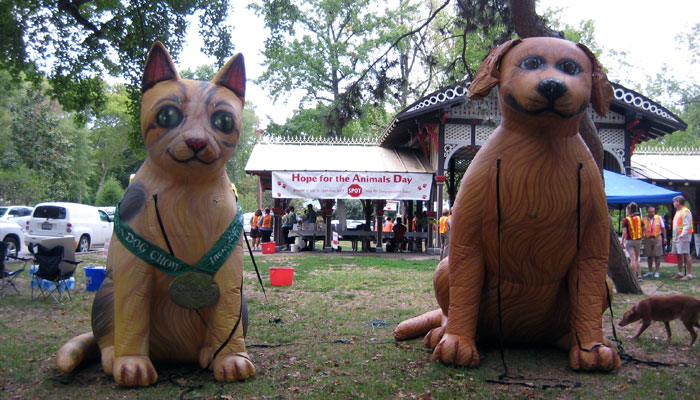 It is time for Operation SPOT's (Stop Pet Overpopulation Today) annual Hope for the Animals Day!
On Sunday, August 18th from 9:00 a.m. through 11:00 a.m. at Tower Grove Park's Sons of Rest Pavilion off of Grand Ave., Operation SPOT will host a variety of pet related services. All services are cash only and range from low-cost vaccinations to nail trimming, and of course, the most popular ceremony; Blessing of the Animals.
Dogs and Cats Rabies: $10 spayed/neutered pet, $20 unaltered
For Dogs Distemper: $10 spayed/neutured pet, $20 unaltered
For Cats Distemper: $10 spayed /neutered pet, $20 unaltered
City Rabies Tag: $4 spayed/neutered pet, $50 unaltered
County Rabies Tag: $8 spayed/neutured, $16 unaltered
Microchipping: $10
Id Tags: $5
Dog Nail Trim and Ear Cleanings: $5 each
Blessing of the Animals is free.
City of St. Louis Animal Care and Control (ACC) is proud to be a partner in this event, and visitors should expect to see ACC's presence throughout the event. 
Members of ACC staff will be assisting in completing rabies certification paperwork as animals receive their vaccinations. Additionally, one of our veterinary technicians will assist in microchipping animals. Stop by the ACC booth for information concerning services, as well as information about safety around animals.
ACC Officers will be patrolling the event to ensure the safety of all animals (and their human counterparts, for that matter). Since all dogs are required to be on a leash, Officers will also have leashes on hand for anyone that forgets theirs at home.
Operation SPOT is dedicated to eliminating the unnecessary euthanasia of dogs and cats in St. Louis and surrounding areas. They are registered as a 501C3 in Missouri and were founded in 1995.