This article is 8 years old. It was published on February 7, 2014.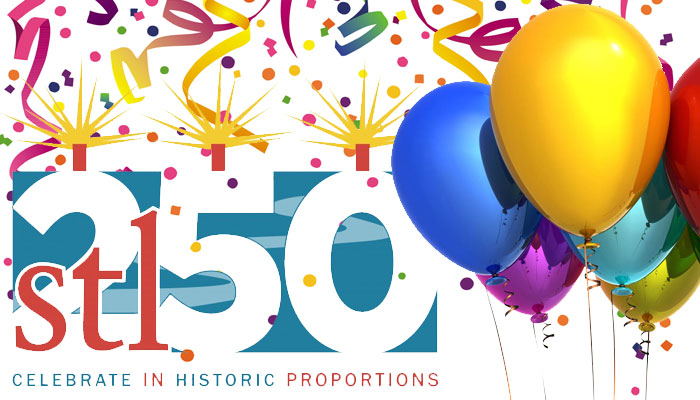 Update 6.7.2014
Youth Orchestra STL250 Birthday Videos
The St. Louis Youth Orchestra recorded short Happy Birthday messages at various Cake locations around the city. They can be viewed in the media gallery.
Original Post 2.17.2014
The city of St. Louis was founded in 1764 by Pierre Laclède and Auguste Chouteau, and named for Louis IX of France. The actual date has been disputed by historians almost from the beginning; Feb. 14 or Feb. 15. Thus, the big stl250 birthday bash, has many events spanning the entire upcoming three day weekend.  Events will be held throughout the year by both stl250 and thousands of other organizations and communities.
The stl250 celebration, which began at Grand Center's New Year's Eve First Night 2013 and will close on New Year's Eve 2014, is an excellent way to celebrate St. Louis' rich history and growing future. It gives visitors and residents a chance to explore the City Government, Historical Locations and offers an opportunity to Get Involved.
stl250 is a nonprofit organization solely focused on commemoration and celebration of St. Louis's founding on its 250th anniversary in 2014.
stl250 was created by area volunteers to coordinate the celebration of the 250th anniversary of the founding of St. Louis by Pierre Laclede. The goal of the organization is to use this Semiquincentennial milestone to increase the pride in our region by building on the momentum already underway.
The 2014 celebration year is co-hosted by City of St. Louis Mayor Francis Slay and St. Louis County Executive Charlie Dooley. Ameren Chairman, President and CEO Tom Voss and his wife Carol serve as stl250 co-chairs.
"stl250 provides all of us with opportunities to reflect on who we are, where we came from and the bright future ahead of us. Over the past 249 years, countless people have worked, learned and played in our region that is rich with history, culture and the promise of opportunity," says Mayor Slay.
Year Long Events:
Cakeway to the West
February 15-December 31, 2014
250 locations throughout bi-state region
Standing at 4ft each, two-tier ornamental birthday cakes will mark 250 locations of importance in our region -- 200 chosen by stl250 and 50 selected through a public vote through Jan. 3, 2014. Locations will be unveiled at Feb.14 at press event. Also debuting will be the stl250 app developed by Arch Grants recipient Candy Lab. The App will share facts about each location, allow "check ins" for a sweepstakes featuring great St. Louis prizes.
A great individual or family activity while learning all about St. Louis' rich history!
Candles on the Cake
K-12 Education – Throughout 2014
In School Learning – St. Louis Kids
Curriculum & lesson plans about St. Louis' history are available for educators via download. In the Fall of 2014, a student community-research project and contest will launch to encourage students to learn about local communities and submit a project. The top 250 submissions will be revealed in Dec. 2014
My St. Louis
Throughout 2014
Online Story Gathering
Collecting the stories, observations and hopes for our region through a social media app. Input will be mapped across indicators of community attachment created by the Knight Foundation and presented in a dashboard format highlighting our efforts to increase our civic pride.Input will be stored in a database for use in planning future services for our region.
St. Louis Serves
Throughout 2014
Volunteer Opportunities
With United Way of Greater St. Louis and Americorps St. Louis, 250,000 volunteers will be matched with hundreds of stl250 volunteer opportunities with our Official Celebration Partners.Project listing and volunteer registration is available at the United Way's Volunteer Center at www.stlvolunteer.org. Approximately one million hours of service will be invested in the St. Louis and surrounding communities. All volunteers recording 25+ hours will receive a commemorative certificate of service.
"St. Louis has a long history, current momentum and a promising future," said Erin Budde, Executive Director for stl250. "It's important that we mark this major milestone in a way that engages our entire region."
Our website, www.stl250.org is the central place to go for information. A visitor to our website today can:
Vote for their favorite Cakeway to the West locations
Sign up to be one of the couples engaged at Burnin' Love
Register a service project or sign up as a St. Louis serves volunteer
Take a crash course on St. Louis history
Become an official celebration partner
Find us on Twitter, Facebook and the Web
Department:


Office of the Mayor


Topic:



1 comment from someone like you has helped us improve this page. Keep the feedback coming!