This article is 7 years old. It was published on July 17, 2015.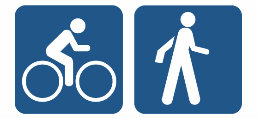 The City of St. Louis has posted a 
job opening
 for a Bike/Pedestrian Coordinator to help make the City a more pedestrian-friendly community by planning for and responding to the needs of cyclists and pedestrians.
The Bike/Pedestrian Coordinator will be responsible for implementing the City's 
Complete Streets
 policy and for helping to achieve Mayor Francis Slay's goals for bike infrastructure, facilities, and transportation as outlined in his 
Sustainability Action Agenda
. The Bike/Pedestrian Coordinator also will take a targeted, data-driven approach to focus investments and improvements where they are needed most. It's another step the City is taking to make it easier and safer to walk and bike around St. Louis.
"As we continue to grow our network of on-street bicycle routes and focus on improvements for pedestrians, we want a professional dedicated solely to this effort so that we can create a strategic master plan, better address the concerns and needs of pedestrians, and promote healthy and active lifestyles," Mayor Slay said. "Our new Bike/Pedestrian Coordinator will help make St. Louis a more bikable, walkable place to live, work, and explore by considering everyone -- not just those behind the wheel -- when it comes to designing and maintaining our streets."
The Bike/Pedestrian Coordinator also will work with community partners like Great Rivers Greenway, Trailnet, MoDOT, and the Bike and Pedestrian Federation to educate drivers and pedestrians, encourage walking and biking, and implement on-street facilities, such as bike lanes, shared lane markings, signage, bike racks, bike corrals, better crosswalks and pedestrian signals, and ADA-accessible routes.
"A safe biking environment can provide visitors and tourists with a way to explore our great City through a different perspective," Traffic Commissioner Deanna Venker said. "For example, bike tours can offer a cultural experience; Jazz St. Louis partnered with Trailnet to host a bike tour of the City's musical history. Having a Bicycle/Pedestrian Coordinator will build these programs and facilitate more partnerships and opportunities for our citizens to engage in our communities."
The hiring of a Bike/Pedestrian Coordinator will also help the City fulfill the United States Department of  Transportation 
Mayor's Challenge
 for Safer People, Safer Streets. In February, Mayor Slay signed on to U.S. Transportation Secretary Anthony Foxx's challenge to take action to improve safety for bicyclists and pedestrians of all ages and all abilities. In addition to the City's Complete Streets approach, other plans as part of the year-long challenge include:
Identifying and addressing barriers to make streets safe and convenient for all road users, including people of all ages and abilities and those using assistive devices;
Gathering and tracking biking and walking data;
Using designs that are appropriate to the context of the street and its uses;
Taking advantage of opportunities to create and complete ped-bike networks through maintenance;
Improving walking and biking safety laws and regulations;and
Educating and enforce proper road use behavior by all.
Department:


Office of the Mayor