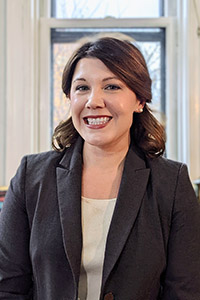 Today, Mayor Tishaura O. Jones announces new appointments to key policy and communications positions. Casey Millburg will join the administration as Policy Director, and Willie "Trey" Prothro Jr. as Community Communications and Engagement Assistant.
"I am excited to welcome Casey and Trey to our team, who will strengthen our policy work and community outreach efforts," said Mayor Tishaura O. Jones. "Of all levels of government, it's local government that touches the lives of people the most. These latest additions to our team will help us pursue thoughtful, inclusive policy decisions while keeping the community involved in the city's important work."
Casey Millburg brings to City Hall extensive experience in Jefferson City, previously working as General Counsel and Budget Director for the Missouri House Minority Caucus, where she advised on legislative, regulatory, and ethical matters, and secured more than $2.5 billion for caucus priorities. Casey holds a Juris Doctor from Penn State Law and a Bachelor of Arts in Political Science from Truman State University.
Trey Prothro brings a range of experience in organizational communications, stakeholder engagement, and partnership development to the administration to strengthen community outreach efforts. Trey has previously served as Campaign Manager for Deb Lavender for Missouri, as well as Special Projects and Data Coordinator for Saint Louis Public Schools. Trey has a Master of Science in Publishing from Pace University in New York City, and a Bachelor of Journalism in Editing from University of Missouri Columbia.
Casey will assume her role on Monday, December 12. Trey began his work in November spearheading yesterday's Police Chief Town Hall.
Contact Information:


Nick Dunne
Public Information Officer
Office Phone: (314) 622-4072

Department:


Office of the Mayor