This article is 7 years old. It was published on December 29, 2015.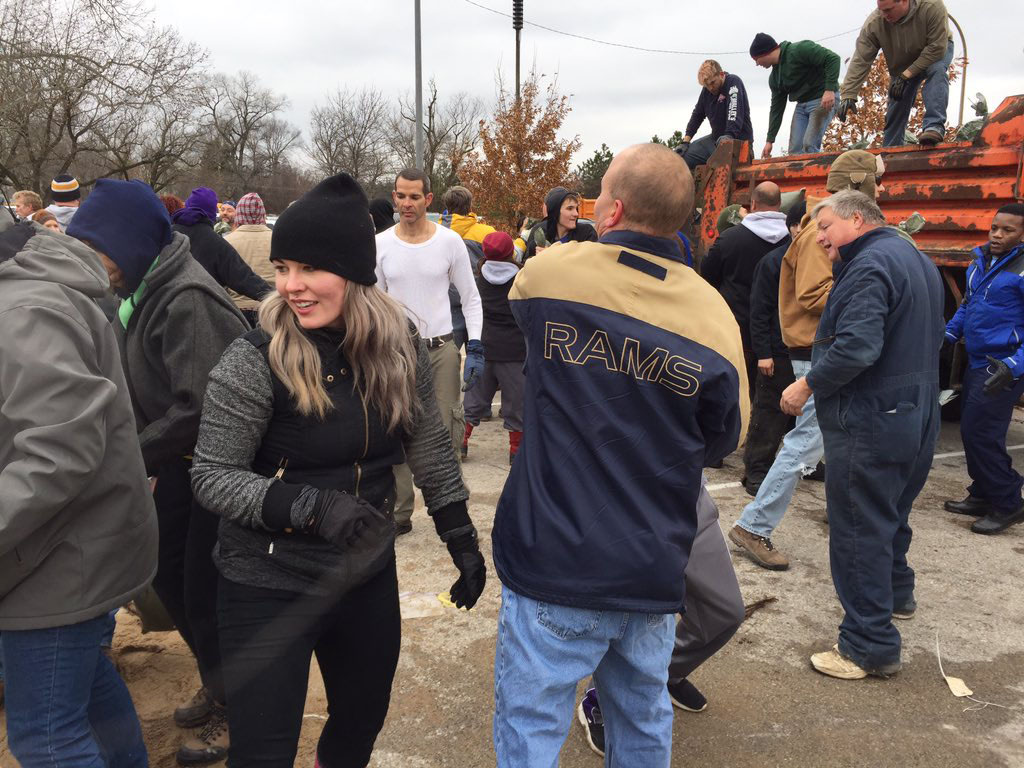 Update 1/4/2015, 4:30pm - Street Closures Changes
Leonor K Sullivan Blvd is closed in both directions
River City Casino Blvd and the Alabama bridge over River Des Peres are NOW OPEN.
Riverview Blvd is NOW OPEN
Street Department continues to monitor the flood wall of the Mississippi River
Update 12/30/2015, 1:30pm -- Street closure map and floodplain information
Update 12/29/2015, 2:30pm -- Volunteers No Longer Needed.
Update 12/29/2015, 2:00pm -- Hundreds of volunteers fortify River Des Peres Levee
ST. LOUIS –The City of St. Louis's efforts to fortify low-lying areas of the River Des Peres levees is nearing completion, thanks to the work of more than 500.
Since 7 a.m., volunteers and City staff shoveled 630 tons of sand into 36,000 sandbags and built a sandbag wall along 1,200 feet of the River Des Peres between Morgan Ford and Alabama to hold back rising floodwaters. This follows Mayor Francis Slay's call for volunteers to help as St. Louis faces near-historic river levels by Thursday's crest.
"St. Louisans are resilient," Mayor Slay said. "They stick together and help one another in times of need. I am very proud of the work we did and thank all of the City staff and volunteers, including one young man celebrating his 16thbirthday today, for taking time out to fill and stack sandbags to help our neighbors."
But, it's not only local neighbors in need. With the river levee strengthened, the City of St. Louis is trucking 1,500 filled sandbags to Jefferson County's Public Water Supply District #2 treatment plant, which is threatened by the overflowing Big River in Eureka.
"We were overwhelmed by the great people who came out to help us today," Todd Waelterman, Director of Operations, said. "We've built a good little wall around some troublesome areas of the River Des Peres and have enough sandbags left over to give the boost to Jefferson County that it needs."
The City of St. Louis remains under a state of emergency, which activates the City's Emergency Operations Center to coordinate response among City departments and services, along with outside agencies. It also allows the City to request state resources and reimbursement, as necessary. 
As a reminder, residents should always call 911 for emergencies but are encouraged to use 211 for non-emergencies. Report City service needs, such as street light and signal outages, downed trees, or flooded roads, to the Citizen's Service Bureau (CSB) at 314-622-4800,
Scroll down to view photos and reports from Twitter.
Original Post 12/29/2015, 2:00pm --  Mayor Slay Declares a Weather Emergency