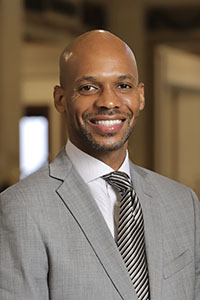 Today, Mayor Tishaura O. Jones announces the appointment of Yusef Scoggin as Director of the Department of Human Services (DHS) for the City of St. Louis. Scoggin will join the administration from the St. Louis County Department of Human Services, where he has worked since 2017. Scoggin will begin October 20, 2021.
"Yusef's experience working with our region's most vulnerable populations will be a strong asset to St. Louis," said Mayor Tishaura O. Jones. "His expertise will be valuable at a critical time as we move forward with hiring more social workers to support our public health and safety efforts, expedite rental assistance, and implement more than $48 million in American Rescue Plan Act funding to strengthen and expand DHS programs."
Elevating the social determinants of health has been a key element of his service addressing homelessness, housing instability and food insecurity with regional Continuum of Care (i.e. stakeholders addressing unhoused issues). As co-Chair of the Saint Louis Area Regional Commission on Homelessness (SLARCH), Yusef has helped lead regional collaboration of Saint Louis Metropolitan Area Continuum of Care to combat housing insecurity and unhoused. Scoggin has also led the effort to distribute rental assistance funds in St. Louis County as well as youth programming efforts, distribution to address food insecurity, and senior and veterans services.
"I'm honored to join the team of committed staff and stakeholders focused on addressing the needs of our most vulnerable that struggle to obtain and maintain housing," said Yusef Scoggin. "Building upon the critical partnerships and systems required to provide comprehensive supports is paramount."
Scoggin's work focuses on the development of human capital through sustainable holistic systems and partnerships. This interest in part is expressed through board service with the United Way of Greater St. Louis, Saint Louis Mental Health Board, Saint Louis Area Regional Commission on Homelessness (SLARCH), Behavior Health Network Adult Advisory Board, Central West End Southeast Special Business District, Continuum of Care for both St. Louis City and County, Park Central Development, and more. He holds a Bachelor's of Science Degree from Xavier University of Louisiana and a Doctorate of Medicine from University of Missouri Columbia School of Medicine.
Contact Information:


Nick Dunne
Public Information Officer
Office Phone: (314) 622-4072

Department:


Office of the Mayor
Department of Human Services