Nicolle Barton, M.A., CFE, CPO
Executive Director, Criminal Justice Coordinating Council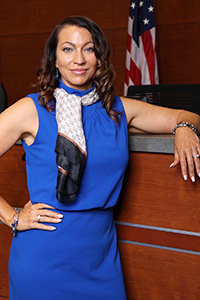 Nicolle Barton is currently the Executive Director for the Criminal Justice Coordinating Council for the City of St. Louis. This Council is tasked with ensuring the fair administration of the criminal and juvenile justice by increasing effective communication, collaboration, and planning. Previously, Nicolle was the Consent Decree Coordinator for the City of Ferguson where she is tasked with ensuring both Municipal Court and Police Department Compliance of federal oversight for the City of Ferguson. Nicolle worked closely with the United States Department of Justice and the Federal Monitoring Team to ensure court and police reform efforts meet the requirements of the Federal Court order.
Previously she was the Executive Director for the St. Louis City Civilian Oversight Board where she served as the Director since its inception in February of 2016. She earned her Master's Degree in Legal Studies from Webster University in St. Louis. She also has a Bachelor's Degree in Administration of Justice. She has a background in both law enforcement and community engagement. She previously worked for the Missouri Department of Corrections, Division of Probation and Parole for 16 years.
Nicolle worked in the Ferguson community during the Ferguson crisis and volunteered in the community to assist with reform efforts. She has been a longtime supporter and volunteer for Social Justice Reform and Criminal Justice Reform. Nicolle served on the St. Louis County Board of Executives for the Family and Domestic Violence Council from 2009 until 2016. She served on the subcommittee that helped develop the first St. Louis County Domestic Violence Court.
Nicolle has over 20 years of professional practice and experience in training, leadership, and operations. She assists in writing policies and procedures, developing and implementing training, and has served on various committees throughout her tenure. She has implemented Strategic Planning and Community Engagement efforts in the St. Louis City and surrounding areas.
Nicolle is a Member of the National Association for Civilian Oversight of Law Enforcement (NACOLE) and has been a panel speaker at numerous conferences. In 2020 she was elected to the Board of Directors for NACOLE. She has been recognized as a leader in "Eliminating Racism, Empowering Women". She is also a Certified Fraud Examiner, a Member of the Association of Certified Fraud Examiners, a Member of IACA (International Association of Crime Analysts), and certified as an Oversight Practitioner.
Contact Information
Address:
1200 Market St.
Room 200
St. Louis, Missouri 63103