Sarah Russell
CEMA Commissioner (they/them/theirs)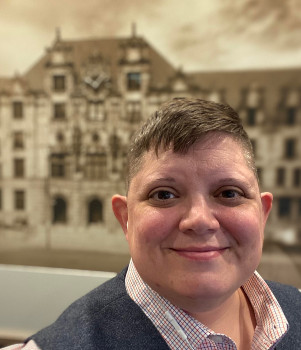 Sarah L. Russell was promoted to Commissioner of CEMA in May 2021. They joined CEMA in 2010 as a specialist responsible for public information, community outreach, training, exercise, and general topics in emergency management. In 2012, Sarah was promoted to Communications Center Coordinator taking responsibility for all notification and communication equipment and processes for the agency. In addition to those tasks, Sarah has served on a number of committees and advisory councils responsible for developing policy at the local, state and federal levels, and currently serves as the Secretary of the St. Louis Area Regional Response System Board of Directors.
An authority on social media, Sarah has been a member of the executive board of Social Media Club St. Louis, has been a speaker at the Government Social Media Social for Safety Conference, Missouri Emergency Management Conference, Northeast Illinois Public Information Officers Association Conference, the Red Cross Preparedness Academy, and has also presented to groups from the U.S. Environmental Protection Agency Water Security Division, Federal Commission on School Safety, the St. Louis Federal Executive Board, the New Leaders Council, and the World Affairs Council of St. Louis. They have also been a consultant for several departments and organizations as they look to engage in using social media for local government or emergency response purposes. Sarah was appointed to the Department of Homeland Security's Science & Technology Directorate's Social Media Working Group for Emergency Services and Disaster Management which establishes and collects best practices and solutions to be utilized by public safety officials throughout the nation. 
Sarah is a member of the International Association of Emergency Managers, International Public Safety Association, Government Social Media Organization, and the National Information Officers Association. They also serve as a volunteer with Team Rubicon and as a bugler, performing Taps at military ceremonies and memorial services in the St. Louis area.
Sarah has responded to several tornadoes, floods, and hurricanes across the country filling roles from incident commander to chainsaw operator.
Contact Information
Address:
1915 Olive Street
Sixth Floor, CEMA
St. Louis, Missouri 63103