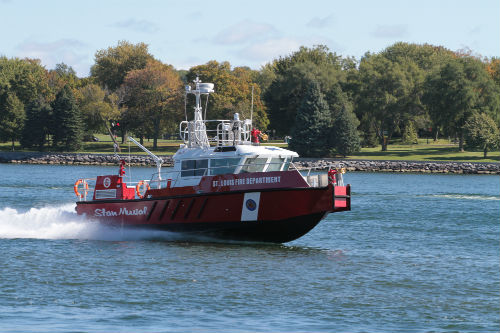 The St. Louis Fire Department (STLFD) will soon take delivery of a new 44-ft. fireboat. The fireboat will be the "Big Hitter" in the Port of St. Louis, and it was felt that no better name could be associated to it than that of Cardinals great Stan Musial. Therefore, STLFD Marine Unit # 6 is so designated as the "Stan Musial." 
St. Louis is home to the nation's third-largest inland river port by tonnage. The fireboat is a much needed asset to the Port of St. Louis and the region as it provides many of the features formerly unavailable in the area. 
The vessel is able to reach speeds of 38 knots. The design allows for a large pumping capacity of 4,000 gallons per minute (GPM) @ 150 pounds per square inch (PSI) while underway and up to 7,000 GPM @ 150 PSI while shore side as well as providing fire suppression capability for flammable liquid fires through its inline foam eduction system. 
The fireboat was purchased through a port grant. 
The boat was manufactured by MetalCraft Marine of Clayton, NY and Kingston, Ontario.