This article is 9 years old. It was published on February 11, 2013.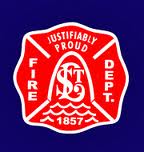 Media Advisory
WHO:  The St. Louis Fire Department Engine House 30
Liberty Mutual Insurance
WHAT:Firefighters receive the latest training resource, FIRE RESCUE TV
WHEN:Tuesday, February 12, 2013, at 10 a.m.
WHERE:St. Louis Fire Department Engine House 30
541 DeBaliviere Avenue
St. Louis, MO  63112
Liberty Mutual Insurance has sponsored the installation of FIRE RESCUE TV in St. Louis Engine House 30.
FIRE RESCUE TV is a private and custom television network of 24 hour a day training and up to the minute updates on emergencies happening around the world.  The network is delivered via digital signage.  There is a 52-inch computer screen and a computer tower behind it that communicates with the host in Virginia Beach, VA.  Engine House 30 is the first fire station in the state of Missouri to have FIRE RESCUE TV.
Representatives of Liberty Mutual Insurance will be on hand to meet with firefighters and view the latest training resource.
For more information, contact Captain Dan Sutter, PIO, (314) 387-1591.
Department of Public Safety
City of St. Louis