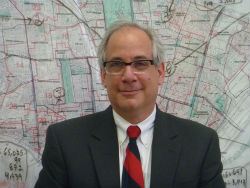 Congratulations
It is my great pleasure to congratulate Mark Swain, the new President of the Mount Pleasant Neighborhood Association (MPNA).  I wish Mr. Swain well in his new leadership role and look forward to hearing about all the exciting activities that will be taking place in the Mount Pleasant neighborhood this year.  For readers interested in attending the next MPNA meeting, it will be held at 7 p.m. on Wednesday, May 30 in its new space, the Gretchen Inn at the Feasting Fox, Grand and Meramec.
Upcoming Events
April 6 – Good Friday Fish Fry, St. Raymond's Maronite Cathedral
Stop by The Cedars Banquet Center at St. Raymond's Maronite Cathedral this Friday for the Good Friday Fish Fry.  Enjoy fried cod, baked tilapia and assorted sides from 11 a.m. to 6 p.m.  For carry out, call (314) 421-9151.  The Cedars is located at 931 Lebanon Drive in the La Salle Park neighborhood.
April 6 – Free Public Telescope Viewing/Star Parties, St. Louis Science Center
The St. Louis Astronomical Society hosts free public Star Parties at the St.  Louis Science Center the first Friday of each month from January – November.  Weather permitting, a number of telescopes will be set up and members of the society will be on hand to answer visitor questions.  Regardless of the weather outside, indoor events are scheduled for each Star Party and held inside the Planetarium's Orthwein Starbay.  The Viewing/Star Party will begin at 7:30 p.m. this Friday.
April 7 – Community Easter Egg Hunt, Tower Grove Baptist Church
Tower Grove Baptist Church will hold a free Community Easter Egg Hunt this Saturday at the Church, located at 4257  Magnolia Avenue in the Shaw neighborhood.  Doors will open at 9:30 a.m. and the Hunt will begin at 10 a.m.  Visitors will be able to enjoy crafts, bounce house, face painting, pictures with the Easter Bunny, a Golden Egg surprise and more!  For more information, call (314) 865-4673.
April 7 – TPNA Easter Egg Hunt, Tilles Park
The Tilles Park Neighborhood Association will hold an Easter Egg Hunt from 10 a.m. to Noon on Saturday in Tilles Park, Hampton & Marquette.  Invite your family and friends to a fun event in the park.
April 7 – Visit with the Easter Bunny, Soulard Market
Visitors to Soulard Farmers Market this Saturday will have the opportunity to visit with the Easter Bunny from 9:30 a.m. to 2 p.m.  The event is free.  Take your own pictures.  Children 10 years of age and under will receive toys and candy.  The Market is located at 730 Carroll Street in the Soulard neighborhood.
Also, the Soulard Business Association will host an Easter Egg Hunt at 1 p.m. on Saturday at Soulard Market Courtyard.  Bring your family and friends to this "egg-cellent" way to spend the afternoon.
April 8 – Concours d'Elegance Vintage Auto Show, Forest Park
A favorite tradition for many St. Louisans is a stop by the Easter Car Show in Forest  Park.  The Horseless Carriage Association will present its 51st Annual "Concours d'Elegance" Auto Show from approximately 11:30 a.m. to 3:30 p.m. Sunday in the Upper Muny Lot in beautiful Forest Park.  The event is free to the public.  Vintage models on display will include Pierce-Arrow, Studebaker, Cadillac, DeSoto, Packard and more!  For additional information, visit www.hccmo.com .
Save the Date
April 13 – Pep Rallies & Cardinals Home Season Opener, Busch Stadium
April 13 – Book Fair, Lafayette Park United Methodist Church
April 13 – 15 – Titanic Centennial Weekend
April 14 – Trivia Night Fundraiser for North City Farmers' Market
April 14 – 3rd Annual WordFEST, Saint Louis University Campus
April 14 & 15 – GO! St.  Louis Family Fitness Weekend and Marathon
April 14 & 15 – Brightside St.  Louis' Blitz 2012 begins
April 15 – 21 - National Volunteer Week
Promoting Your Neighborhood Activities
Is there a neighborhood event on the schedule that you would like noted in the Spotlight? If so, you may email the information about it to me at rothe@stlouiscity.com or to Cathy Smentkowski at smentkowskic@stlouiscity.com for consideration. You may also post it on the City's Calendar of Events on the City's web site: http://stlouis-mo.gov . The link to submit an event is on the home page. The listing is free. I encourage you to take advantage of this free way to promote your event.
Free Tax Preparation
Due to quirks in the calendar this year (April 15 falls on a Sunday and the following day is Emancipation Day, which is an observed holiday in the District of  Columbia) tax payers will have until April 17 to file their 2011 returns.  If you have not filed your return yet and need help doing so, you may qualify for free tax preparation.  The Gateway EITC Community Coalition is a non-profit organization dedicated to preparing tax returns free of charge for families with incomes less than $50,000.  You may also qualify to receive cash back when you claim the Earned Income Tax Credit (EITC).  Simply dial 2-1-1 to learn if you qualify or to find the nearest tax preparation site.  You may also visit the web site www.gecc.us for more information.
Eddie Roth
Director of Public Safety
City of St.  Louis
Department:


Department of Public Safety