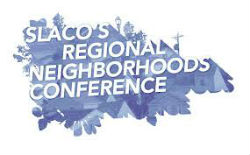 The 18th Annual SLACO Regional Neighborhoods Conference will be held from 8 a.m. to 2 p.m. on Saturday, November 2, 2013, at Harris-Stowe State University, 3026 Laclede in the Midtown neighborhood.  The theme for this year's conference is "engaging neighbors today and tomorrow."  Conference topics will include:  Success Stories, How-To's, Technology, Community Collaboration, and Crime and Public Safety, to name a few.
The conference will feature three concurrent workshop sessions, with a total of 18 workshops now being designed to give neighborhood leaders and residents new ideas, information, and resources for improving their neighborhoods.
Registration on-line is now available at www.slaco-mo.org.  The $25 registration fee covers SLACO's costs, including continental breakfast and lunch.  Checks and cash also will be accepted at the door, but pre-registration is required to ensure an accurate count for breakfast and lunch.  If you do not care to register on-line, you may call SLACO at (314) 361-9406.
Take advantage of this great opportunity to meet and network with other neighborhood residents to find out what works for them and form new partnerships.
# # #