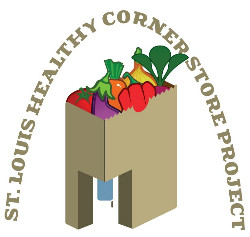 St. Louis neighborhoods have an opportunity to participate in a new project designed to improve access to healthy foods for city residents. 
The St. Louis Healthy Corner Store Project
works to add healthy options to the food available at small corner stores and markets in the city, primarily in neighborhoods without adequate supermarkets or other sources of affordable healthy food.
Families often depend on small corner stores for food purchases.  However, research has found that most of these stores lack an inventory of fresh, healthy food, and instead, stock processed foods that are more expensive and loaded with fat and sugar.  Working with neighborhood leadership groups and corner store owners, the St. Louis Healthy Corner Store Project will help formulate a comprehensive approach that combines nutrition education, small business management, neighborhood leadership and greater availability of affordable, healthy food.
Nominations for the 2012 program year are currently being accepted.  Late last week, packets of information were sent to local elected and government officials, non-profit staff, neighborhood leaders and others seeking their nominations. Application forms may also be found on the University of Missouri Extension website at http://extension.missouri.edu/stlouis/healthycornerstore/.  The application process requires the identification of both a neighborhood corner store and a leadership group in that neighborhood.  The nominations are due on Friday, Feb. 3, 2012.
The St. Louis Healthy Corner Store Project is a collaborative between the City of St. Louis Departments of Health and Public Safety, University of Missouri Extension, and the St. Louis Development Corporation, with funding support from the Missouri Foundation for Health.  Over the next three years, the project plans to engage 12 corner stores and neighborhoods, beginning with four stores in the 2012 program year.
For more information regarding the project, contact:
Kara Lubischer - University of Missouri Extension, (314) 516-6392, lubischerk@umsl.edu
# # #