Public Safety Director's Spotlight - Severe Weather Preparedness Week
Weekly newsletter from the Public Safety Director Spotlighting special events and neighborhood activities of interest to St. Louisans and visitors.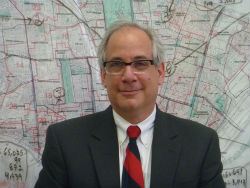 Portrait of Eddie Roth, Director of Public Safety, appointed Feb. 27, 2012. by Kara Bowlin
First Annual National Severe Weather Preparedness Week
The first annual National Severe Weather Preparedness Week is being observed this week (April 22 – 28) and is sponsored by the Federal Emergency Management Agency and the National Oceanic Atmospheric Administration.  The effort is designed to increase awareness of how severe weather impacts individuals, families, businesses and communities.  I encourage you to take the Seven Minutes for Seven Days to a Family Emergency Plan challenge and use this week to create an emergency family plan or to update your existing plan. We all know how quickly severe weather can strike in St. Louis.  Plan now to safeguard your loved ones.  For help developing your plan, visit www.ready.gov/emergency-planning-checklists .
Upcoming Events
April 26 – 28 – 2012 FIRST Championship, Edward Jones Dome & America's Center
Come get inspired by more than 11,000 kids ages 6 to 18 from all over the world, along with their mentors and coaches, as they compete head to head at the Edward Jones Dome with robots and research projects they've created themselves.  It's amazing to watch, and all events are open and free to the public so plan to attend and see which team takes top honors in design excellence, competitive play & sportsmanship.  For exact times, see the web site at www.stlouisfirst.org/ .
April 27 – Annie Malone Kickoff Barbeque Benefit, Kiener Plaza
The Annie Malone Children and Family Service Center will host its Annual Kickoff Barbeque this Friday from 11 a.m. to 7 p.m. at Kiener Plaza, Broadway and Market Street in Downtown St. Louis.  Annie Malone promises to provide patrons with delicious, mouth-watering barbeque sandwiches and side dishes.  The event will feature talented youth and other artists, a bouncy playground, along with informational booths and community resources.  From 4 – 7 p.m. the event will feature McDonald's Music Fest.  For all the details, visit www.anniemalone.com/ .
April 27 – 29 – Shakespeare in the Streets, Cherokee Street
Shakespeare Festival St. Louis wants to bring Shakespeare and Shakespeare adaptations to every part of the City of St. Louis, and it is starting with the Gravois Park neighborhood (Cherokee Street Business District).  The talented artists at Shakespeare Festival St. Louis have written a new adaptation of a Shakespeare play by, with and for the people of Cherokee Street, and they will be performing it on the streets and parks of the neighborhood this Friday & Saturday at 8 p.m. and Sunday at 3 p.m.  The show will run about an hour.  Visit www.shakespearefestival.org/ for more information about these performances / block parties.
April 28 & 29 – Brightside St. Louis' Blitz 2012 Continues
Project Blitz, Brightside St. Louis' annual campaign to clean up city neighborhoods continues this weekend.  Blitz is a great time to join your neighbors to clean up the streets, alleys and vacant lots on your block and in your immediate neighborhood.  The focus for this weekend will be Region 2 North (bounded by Natural Bridge on the north; Mississippi River on the east; I-64 & Metrolink on the south, & Taylor on the west) and Region 2 South (bounded by I-64 on the north; Mississippi River on the east; Meramec on the south, & Grand on the west).  To learn more, call (314) 772-4646.
April 28 – Downtown Home Tour, The Laurel Apartments
"The Art of Downtown Living" is the theme for this year's Downtown Home Tour being held Saturday, April 28 from Noon to 6 p.m.  The self-guided tour will showcase 10 to 12 unique homes of our Downtown residents illustrating the variety of Downtown living from condominiums to apartments, and penthouses to one-bedrooms.  The tour is $14 with online registration and $20 day of the event –The Laurel Apartments, 616 N. 7th Street.  A Tour booklet, tour map, free parking and shuttles will be provided.  For more information, go to the web site www.downtownstl.org/ .
April 28 – Vintage Baseball, Gateway Arch Grounds
Local teams will play baseball games under the Gateway Arch this Saturday as they were played during the game's formative years in the 19th century.  Stop by from Noon to 6 p.m. to see the Vintage Baseball games as well as hands-on-displays of vintage uniforms and equipment, logo tracing and coloring plates of past and present St. Louis Cardinals team logos.  For more information, phone (314) 655-1700 or visit www.nps.gov/jeff .
April 28 – Disaster Preparedness Training, Buder Branch Library
Map Your Neighborhood is an all-hazards program designed to help neighbors prepare for disasters.  In a disaster, your neighbors are your most immediate source of help.  Knowing what to do in the first hour of a disaster response may save a life, reduce the severity of injuries, and reduce the amount of damage that you, your family, and neighbors sustain.  To that end, the St. Louis Section of the American Society of Civil Engineers is hosting a free, one-hour training class at 2 p.m. on Saturday at the Buder Branch Library, 4401 Hampton in the St. Louis Hills neighborhood.  Learn what to do for your family and neighbors if a disaster occurs.
April 28 – Happy 190th!, Soulard Market
A representative from the Superintendent for the National Park Service will speak at Soulard Market this Saturday at 11 a.m. in honor of the 190th birthday of Ulysses S. Grant.  President Grant was once a vendor at the Market.  You are cordially invited to come to the Market to learn more about President Grant, then visit the many current vendors at the Market.
May 1 – Twilight Tuesday Concert Series
A favorite of many St. Louisans, the Twilight Tuesday Concert Series at the Missouri History Museum in the beautiful Forest Park will kick off on Tuesday, May 1 with a concert by Nikko Smith.  All concerts will begin at 6 p.m. on the museum's front lawn.  Admission is free.  The series will run through June 12.  For a complete list of performers, visit www.mohistory.org/ .
May 2 – Wednesday Night Out (Downtown-wide Happy Hour)
The Wednesday Night Out events were so popular last year, they are resuming again this year, every Wednesday night May – August from 4 – 7 p.m. at participating Downtown restaurants and bars.  Invite your friends and co-workers to join you after work and take advantage of all the great dining spots in Downtown St. Louis.
May 4 – Pasta Dinner
The Epiphany Lutheran Church at 4045 Holly Hills at Leona in the Bevo Mill neighborhood will be holding a Pasta Dinner on Friday, May 4 from 4 – 7 p.m.  Dine in or carry out.  Dinner includes ravioli or spaghetti with meat sauce, dinner salad, bread, beverage and dessert.  For more information, call the church at (314) 752-7065.
May 11 – Spring Jubilee in Celebration of Older Americans Month, Scottish Rite Cathedral
The St. Louis Area Agency on Aging (SLAAA), a division of the City of St. Louis Department of Human Services, has announced that the 15th Annual "Spring Jubilee" in celebration of Older Americans Months will take place on Friday, May 11 from 10 a.m. to 2 p.m. at the St. Louis Scottish Rite Cathedral, 3633 Lindell Boulevard in Grand Center.  Doors will open at 9:30 a.m. and this event is free to all St. Louisans who are 60 years old or older.  Reservations for the free hot lunch or transportation may be made by contacting SLAAA at (314) 612-5918.  Reservations must be made by 5 p.m. on Friday, April 27.
May 12 - Trivia Night
Carondelet Community Betterment Federation (CCBF) is having its 5th Annual Trivia Night fundraising event on Saturday, May 12 at the Father Keaney Center, 4092 Blow Street.  The doors will open at 6 p.m. and the games will start at 7 p.m.  Cost is $20 per person and $160 per table of eight.  CCBF works to help the low-income families in the Carondelet neighborhood through food and utility assistance, and also home repairs.  To reserve a table, contact Jamie Boothe at jboothe@ccbf6408.org .
Save the Date
May 3 – Be a Tourist in Your Own Town, Kiener Plaza
May 4 & 5 – Annual St. Louis Microfest Beer Festival, Forest Park
May 5 – 10th Annual Mary Meachum Freedom Crossing Celebration, North Riverfront Trail
May 5 – Free Nonviolence Workshop, Schlafly Branch Library
May 5 – Cinco de Mayo, Cherokee Street
May 5 – Tower Grove South Yard Sales, TGS Neighborhood
May 5 & 6 – Tower Grove East Plant Sale
May 5 – 13 – National Travel and Tourism Week
May 6 – Morgan Ford Pet Parade
May 6 – Knock Out Violence Trivia and Silent Auction, Nadine's in Soulard
May 7 – 11 – Small Business Week of Eastern Missouri
May 8 – 10 – Mayor's Sustainability Summit II Community Workshops, Various Locations
Promoting Your Neighborhood Activities
Is there a neighborhood event on the schedule that you would like noted in the Spotlight? If so, you may email the information about it to me at rothe@stlouiscity.com or to Cathy Smentkowski at smentkowskic@stlouiscity.com for consideration. You may also post it on the City's Calendar of Events on the City's web site: http://stlouis-mo.gov . The link to submit an event is on the home page. The listing is free. I encourage you to take advantage of this free way to promote your event.
Dining Out For Life
In closing, I want to encourage you to Dine Out For Life this Thursday, April 26.  More than 140 locally-owned restaurants will be participating for breakfast, lunch or dinner.  They will donate 25% or more of your bill to HIV prevention and care programs in our community.  Ozzie Smith is this year's Honorary Chair of the event.  For a list of participating establishments and more details, visit www.stlefa.org/ .
Eddie Roth
Director of Public Safety
City of St. Louis
Department:


Department of Public Safety


Topic:


Arts and Entertainment Events