Peabody Opera House Opening Night
Brief photo gallery of Peabody Opera House Opening Night on Oct. 1, 2011.
Peabody Opera House Opening Night
"An Encore 77 Years in the Making," the grand reopening of the newly renovated Peabody Opera House in Downtown St. Louis, took place on Saturday, Oct. 1, 2011.  The gala benefited the John L. Trotter Multiple Sclerosis Center at Barnes-Jewish Hospital and Washington University School of Medicine. Originally opened in 1934 as the Kiel Opera House, the facility was closed for more than 20 years and has now been restored to its original look.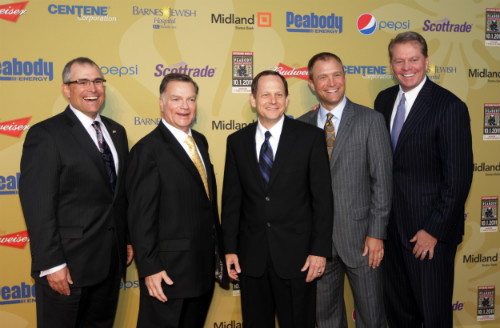 Mayor Francis G. Slay (center) on the red carpet celebrating Opening Night with Peabody Opera House officials. The developers are Sports Capital Holdings-St. Louis, owner of the Blues and operator of Scottrade Center; Optimus Development; and Paric Corp., in Partnership with KAI Design and Build. Pictured from left are Joe McKee (Paric), Greg Boyce (Peabody Energy), Mayor Slay, Chris McKee (Optimus) and Dave Checketts (SCP Worldwide).
Photo by UPI/Bill Greenblatt