Update as of 9:45 AM on Wednesday, May 12th: The precautionary boil advisory for has been lifted.

The Water Division conducted several tests of water samples in affected areas and has verified the water is not contaminated and is safe to consume.
The City Water Division has issued a precautionary boil water advisory for a portion of its service area due to low water pressure caused by a broken water main.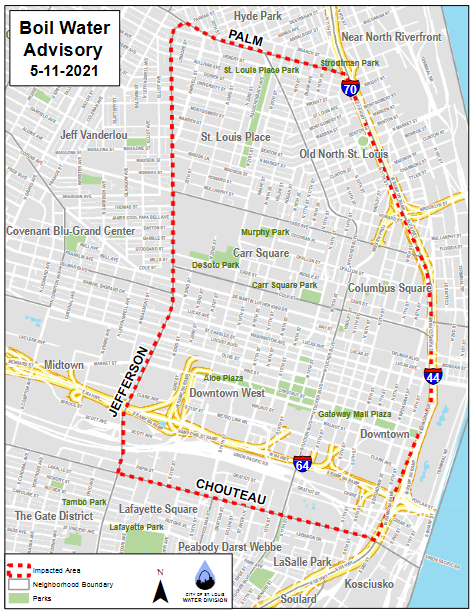 The boundaries of for the area under the precautionary boil water advisory are:
South of Palm - Natural Bridge
West of Hwy 70
North of Chouteau
East of Jefferson
Although water has been restored, the water pressure in the affected areas has fallen below acceptable City levels, prompting the City Water Division to issue a precautionary boil water advisory out of an abundance of caution.
The boil water advisory is in effect until further notice. The Water Division will analyze water sample before determining when to lift the boil water advisory. Test results will be in 24 hours.
Department:


Office of the Mayor
Water Division
Department of Health