This article is 9 years old. It was published on August 28, 2013.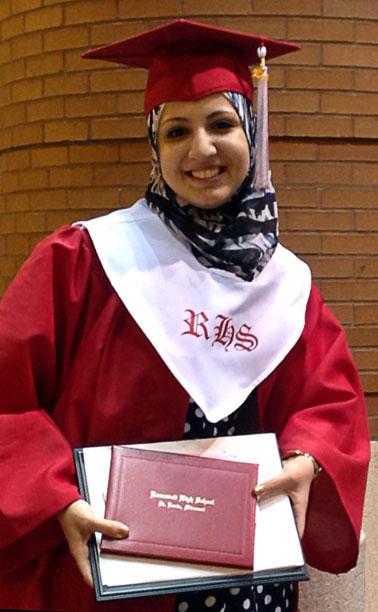 Noor Ahmed is a 2013 Roosevelt High School graduate. An honor student and Vice-President of her senior class, she held various leadership positions at Roosevelt, but to fully appreciate her accomplishments, one needs to know her beginnings.
 
Noor is from Iraq, where she and her family lived a comfortable life of above modest means, until one day, terrorist factions and political upheaval forced them to leave their country and seek refuge in the U.S. Embassy in Syria. Later, the Ahmed family was granted permission to come to the United States and start a new life. Witnesses to their whole world collapsing, the family arrived in St. Louis with no possessions, no cultural experience of the United States, and no fluency in English.
 
Four years later, Noor Ahmed was already well on her way to fulfilling her longtime dream of becoming a medical doctor and helping the sick and less fortunate in her homeland. The girl's indomitable spirit and drive helped her to adjust to her circumstances here. She used every means available to improve her chances and get closer to realizing her childhood dream.
Ahmed's search for post-secondary education and job readiness training brought her to the WIA Youth In-School program administered by the St. Louis Agency on Training and Employment (SLATE). Noor had never held a job before and needed help to secure employment. Through SLATE's youth services provider MERS/Missouri Goodwill Industries, she was placed at Kingdom House to gain summer work experience as a daycare assistant.
 
Throughout the school year, the WIA program helped Noor with college and financial aid applications and scholarship essays, and provided academic tutoring.
As a result, Ahmed was awarded with two monetary scholarships of $500 each, one from the Roosevelt High School Alumni Association and the other from the Hampton-Kiwanis Club. Another scholarship was received from Sigma Gamma Rho Sorority, Inc., awarding Noor with a laptop equipped with MS Office, a laptop backpack and a 16GB flash drive. The formal presentation of the laptop took place on August 9, 2013, at the Emerson YMCA.
 
Noor also received an Access Missouri Award grant from the Missouri Department of Higher Education, along with additional assistance in the form of an A+ Program Scholarship Award and a Youth Business Institute Scholarship.
 
After graduation, SLATE continued to support Noor's academic endeavors with WIA Youth funds, finally helping her to realize her dream. This summer, Noor Ahmed was accepted into the University of Missouri - St. Louis, with a major in pre-medicine. "It is a dream come true for me. I am so happy!" she told her case manager at MERS/Missouri Goodwill.
From circumstances of uncertainty and turmoil, Noor was able to chart a clear path forward and take concrete steps towards achieving her goals. Her unwavering determination has been an inspiration to everyone with the privilege of working with her - they wish her well on a journey that will impact not only her life, but the lives of many others, here and in Noor's homeland.
Submitted by Rosalind Mack, MERS/Goodwill Missouri Industries
Department:


St. Louis Agency on Training and Employment