This article is 9 years old. It was published on December 3, 2013.

Update:
Recently, KMOV (IV) St. Louis TV crew visited SLATE and produced a video highlighting the upcoming Info Session for prospective plumbers and pipefitters. The video can be viewed by clicking image below.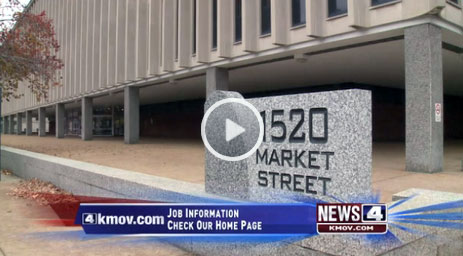 Original Post:
The St. Louis Agency on Training and Employment (SLATE) will conduct a Construction Information Session for job seekers interested in working as a Plumber or a Pipefitter. The event will take place on Thursday, December 5, at 10 a.m. at SLATE Missouri Career Center (MCC) Downtown, 1520 Market Street, 3rd Floor Conference Room, St. Louis, MO 63103. SLATE has partnered with Plumbers & Pipefitters Eastern Missouri Local No. 562 and the Association for Construction Careers, Education and Support Services (ACCESS) to offer this informational event. 
At the information session, counselors from the Plumbers & Pipefitters Eastern Missouri Local No. 562 Training Center will explain details of their apprenticeship program, answer questions about the application process, and provide career guidance and networking opportunities. 
Pipefitter and plumber apprentices receive five years of on-the-job and classroom training. Apprentices receive 216 hours of classroom and shop training annually. Apprentices must be at least 18 years old, have a high-school diplomas or equivalent, and should appear for a scheduled interview. 
Pipefitters use computers to lay out intricate designs for piping to safely deliver product to all types of industries and businesses. Typical work includes the installation of heating, air conditioning and refrigeration pipes of all types, medical gas lines to hospitals, paint lines to automobile assembly plants, hydraulic lines to various industries, and high purity piping for the manufacture of computer chips. They also service all the equipment and piping. Plumbers install systems for water supply, drainage, vent pipes and plumbing fixtures for various construction projects including fountains, swimming pools, aqua centers and water theme parks.
Construction industry sector jobs are predicted to grow significantly between now and 2016. Pipefitter and plumber apprentices will be needed to satisfy the workforce requirements to complete a growing number of major St. Louis area construction projects. Anticipated developments include Ballpark Village, Cortex, BJC Headquarters, Lord & Taylor, Wells Fargo, Mercedes, Northside Regeneration, Carondolet Coke, and The City Walk, among others.
Attendees should bring their resume and dress appropriately. Those not registered with the Missouri Career Centers network will be asked to register onsite. For additional information, please contact Stacey Fowler at sfowler@stlworks.com.

Department:


St. Louis Agency on Training and Employment