This article is 9 years old. It was published on August 21, 2013.

Last week, the 2013 DollarWise Summer Youth Jobs Campaign, an initiative spearheaded by the U.S. Conference of Mayors (USCM), announced two St. Louis City winners of the 2013 DollarWise Summer Youth Jobs Contest.
 
The St. Louis Agency on Training and Employment (SLATE) and Mayor Francis Slay are pleased to announce that Lonnie Orr, enrolled in SLATE's WIA Youth program and DollarWise participant - won 1st place for his entry.
 
The DollarWise Summer Youth Jobs is a national program that provides financial education to youth entering the workforce for the first time. During 5 weeks of summer, as young men and women continue earning their paychecks, DollarWise instills in them conscientious habits and financial-management skills that will last a lifetime. Program participants are required to set and pursue an individual savings goal.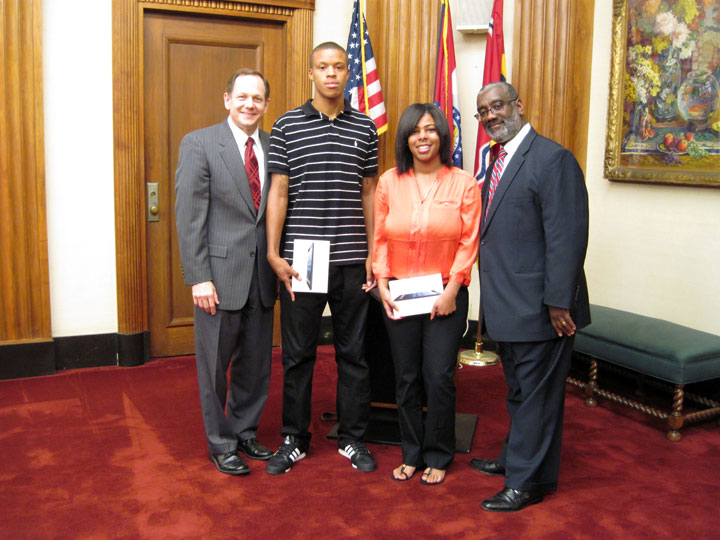 In addition to Orr, SLATE and Mayor Slay had the opportunity to congratulate another deserving youth from St. Louis, Alysha Bates, for becoming the 1st place winner of the second week of the DollarWise Summer Youth Jobs Contest.
Lonnie and Alysha each received an iPad mini from Mayor Slay and SLATE Executive Director Michael Holmes at a special reception in City Hall on August 15. Profiles of the youth can be found below.

Lonnie Orr graduated in May 2013 from Cleveland ROTC High School. With the help of the youth services provider Alternative Opportunities/Jess, he was placed in employment with the Renaissance Grand Hotel in the Laundry Department. Subsequently, Orr entered employment with KBS Services and though them now works in maintenance at the Kohl's Department Store in Bridgeton. Orr's future goals include attending Ranken Technical College to pursue training in Electrical Design. He also expressed interest in joining the National Guard.
In his entry for the DollarWise Video Contest, Orr described his experience in the program. "DollarWise taught me how to save my money, to write checks and to budget. Budgeting is important because you can over spend."
Alysha Bates is a graduate of Beaumont Technical High School, where she enrolled in the WIA Youth program through SLATE and the Family & Workforce Centers of America (FWCA) - SLATE's youth services provider. In addition to DollarWise, she also participated in Job Readiness Training, a spring internship and summer employment at All About Children Daycare. Since her graduation in May of 2013, Bates has participated in Harris Stowe State University's Summer Math and Science Academy. She plans to earn her bachelor's degree in education there and become a Math teacher.

Department:


St. Louis Agency on Training and Employment