This article is 9 years old. It was published on October 29, 2013.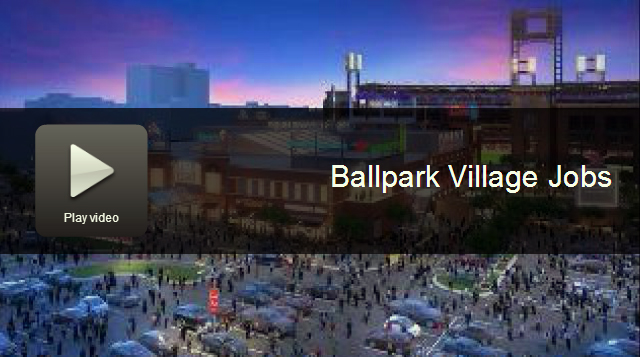 ST. LOUIS, MO (KTVI) – Now that the games at Busch are over for 2013, Ballpark Village can focus on hiring for 2014.
The first job fair will be on November 13, 2013 from 3 until 7 p.m. at the SLATE Downtown office. Employers are recruiting for the Ballpark Village Executive Team.
Employers tell us they will have information sessions and job fairs for other positions, eventually. Until then, candidates would to start with the St. Louis Agency on Training and Employment.
SLATE advisors offered to help anyone hoping to work at Ballpark Village. Services include free resume-writing workshops, job training and interview tips.
SLATE offered to help anyone interested in working in hospitality at the venue, which will have shops, entertainment and restaurants on Clark Street between 8th and 7th Streets. SLATE staff should start referring candidates for the approximately 700 open positions in January 2014.
But first, you must pre-register at a SLATE office.
You will need to bring the following:
Your resume
Identification: Driver's License or State I.D.; Birth Certificate, Baptismal Certificate or Hospital Record of Birth; U.S. Passport
Office Locations:
DOWNTOWN
1520 Market Street
St. Louis, MO 63103
CENTRAL WEST END
4811 Delmar Boulevard.
St. Louis, MO 63108
HOURS
Monday, Tuesday, Thursday and Friday: 8 a.m. to 3:30 p.m.
Wednesday: 9 a.m. to 3:30 p.m.
FOR MORE INFORMATION:
Ballpark Village Hot Line (314) 657-3519
Department:


St. Louis Agency on Training and Employment