This article is 5 years old. It was published on September 14, 2016.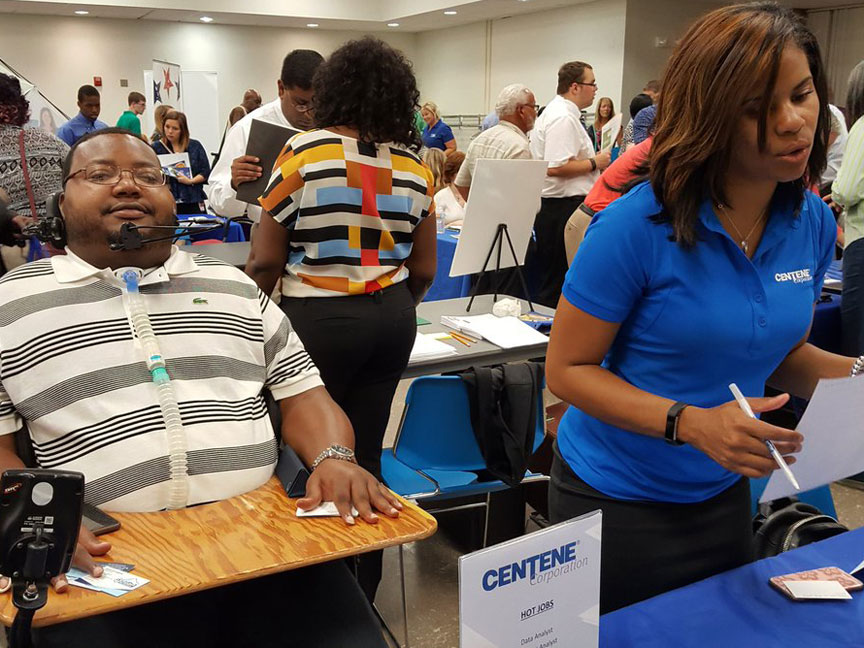 The Second Annual Accommodation for Success event was organized to highlight transformative benefits of hiring persons with disabilities and address the fears about employing these individuals. The two-day event took place on August 9 –10, 2016, at the St. Louis Community College's Florissant Valley Campus. The 1990 Americans with Disabilities Act (ADA) marked a pivotal moment for the approximately 50 million adults living with mental or physical disabilities nationwide. The employment rate for individuals with disabilities remains at 20 percent but key stakeholders believe this can be improved dramatically –the overall goal of this event.  
This year's Accommodation for Success focused on the successes of hiring people with disabilities. New was a Job Fair, a separate event where job seekers with disabilities had the opportunity to network with the employers. Over 100 individuals, representing estimated 70 different businesses, attended the keynote and panel discussion on August 9. An estimated 229 job seekers, along with 49 participating employers, attended the Job Fair on August 10 –participation beyond everyone's expectations. 
"Employers were enthused by the quality of talent who came," said Jim Sahaida, SLATE's Equal Opportunity Officer who helped organize the event. "It was truly phenomenal." A number of participating businesses were selected by each partnering region and presented with awards for Inclusive Hiring Practices, Supportive Training Environments and Emerging Partnerships. The awards were generously donated by the Missouri Rehabilitation Association (MRA). 
"As I stood in the doorway watching all of the job seekers engaging and conversing with the employers, I couldn't help but be overcome with emotion. What a beautiful sight!" said Richard Coleman, Director of Employment at Center for Head Injury Services. 
Initial guests were welcomed by St. Louis County Executive Steve Stenger, who acknowledged the tremendous regional effort to improve services for disabled citizens of St. Louis County, St. Louis City, Jefferson and Franklin Counties and St. Charles. Stenger also recognized the hard work and participation of many local agencies: "St. Louis County government is proud to partner with MERS/Goodwill, Vocational Rehabilitation, Paraquad, Rehabilitation Services for the Blind, and others in providing this opportunity." 
Truly regional, the event's extensive list of honorary guests included Andrea Jackson-Jennings, St. Louis County Director of Department of Human Services, Kevin Whirley, St. Louis County Workforce Investment Board Chair (Master of Ceremonies), Yvonne Wright, Director of Workforce Development at Missouri Vocational Rehabilitation, Duane Shumate, Director of Youth Transition &Employment at Missouri Department of Mental Health, Division of Developmental Disabilities, and Michael K. Holmes, Executive Director at SLATE Missouri Job Center on behalf of St. Louis City. 
A keynote speaker, Andrew Sartorius, delivered a powerful and inspiring message. An attorney and successful graduate of Starkloff Disability Institute, Sartorius is legally blind and had to learn to advocate for his needs early in his life. Now, he continues to support the disability community, and emphasized personal empowerment: "People with disabilities have to meet halfway for accommodations…Stop hiding behind excuses. Move forward, be bold," he said.  
A highlight was the panel discussion of employers and persons with disabilities they had hired. "I want my employers to know that I have a disability but the disability doesn't HAVE ME," said Brandon Morris, a quadriplegic, now working at Centene's Diversity and Inclusion Division. His supervisor, Alishea Johnson, said: "When people look at Brandon, they see limitations. But he's NOT limited." The panel was moderated and thoughtfully led by an Advocacy Specialist with the St. Louis Regional Office, Daniel Mellenthin. Other panelists included Tim Combs, Director of HR at Hyatt Regency at the Arch, Sabina Ademovic, Executive Steward at Hyatt Regency at the Arch and Nate Stevens, Steward at Hyatt Regency at the Arch;Felisha Clay, HR Manager at Embassy Suites in St. Charles and Joseph Hunn, Complimentary Breakfast Utility at Embassy Suites in St. Charles;Charlotte Hammond and Jennifer Trudeau from Challenge Unlimited;and Adriana Borojevic and Angell Farley from Watlow.  
The 2016 Accommodations for Success event wouldn't be possible without the generous support of Gold-level sponsors - US Bank, Kiosite, Ranken Technical College, Challenge Unlimited and SSM Health. In-kind contributions were provided by MERS / Missouri Goodwill (continental breakfast for both days). St. Louis Community College (location), Job News USA (advertising), various Missouri Job Centers, including SLATE (staffing, career workshops), Job Corps (students for parking lots, greeters), and Independent Living Centers, such as Delta Center, Paraquad, Disability Resource Association and others (volunteers and outreach). A Dress for Success mobile trailer was parked nearby for use by participants. The outpouring of support was truly heartwarming.  
Special recognition goes to the members of St. Louis Regional Disability Committee who selflessly donated their time and energy to making this event a huge success. The committee consists of individuals from Missouri Job Centers representing St. Charles County, St. Louis County, Jefferson/Franklin Counties, and St. Louis City, Vocational Rehabilitation, MERS/Goodwill, Department of Mental Health, and Challenge Unlimited. Jennifer Trudeau, PR Advocate for Challenge Unlimited, member of St. Louis Regional Disability Committee, said: "People with disabilities constitute the largest minority group… we've come a long way, but it's really these types of events that pave the way to action and transformation for generations to come." 
Department:


St. Louis Agency on Training and Employment