This article is 7 years old. It was published on November 16, 2015.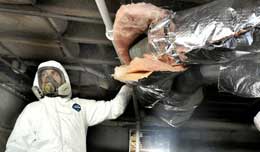 ST. LOUIS - The St. Louis Agency on Training and Employment (SLATE) Missouri Job Center will conduct a Construction Information Session for job seekers interested in working as Insulators and Asbestos Workers. The event will take place on November 20, 2015, beginning at 10:00 a.m. at SLATE, 1520 Market Street, 3rd Floor Conference Room, St. Louis, MO 63103. SLATE has partnered with the Asbestos Workers Local No. 1 to offer this informational event.
At the information session, representatives from the Asbestos Workers Local No. 1 will provide details of their apprenticeship and training program, answer questions about how to apply, and provide career guidance and networking opportunities.
Insulators and asbestos workers enhance internal environments to sustain optimal temperatures and make them safer for people and equipment. They insulate many items, including mechanical systems, hot and cold ducts, boilers and breechings. Apprentices receive four years of classroom and on-the-job training, followed by six-month probation before they are admitted to the union.
Construction industry sector jobs are predicted to grow significantly between now and 2016. Many exciting opportunities exist for insulators and asbestos workers and apprentices to work on a growing number of major St. Louis area construction projects. With residential construction also on a rise, apprentices can enjoy faster than average placement into employment.
Those participants who are unsure if they will enjoy working as insulators and asbestos workers before applying for apprenticeship, have an opportunity to try it as part of a pre-apprenticeship class. The seven-week introductory course will provide students with hands-on experience in various trades, including Asbestos Workers Local No.1;these trades are part of a new Building Union Diversity (BUD) program, administered by SLATE, and taught by nationally certified and union-approved apprenticeship training specialists.
At the information session, attendees should bring their resume and dress appropriately. Those not registered with the Missouri Job Centers network will be asked to register onsite. For additional information, please contact Stacey Fowler at
constructionintake@stlworks.com
.
Department:


St. Louis Agency on Training and Employment