This article is 5 years old. It was published on November 8, 2016.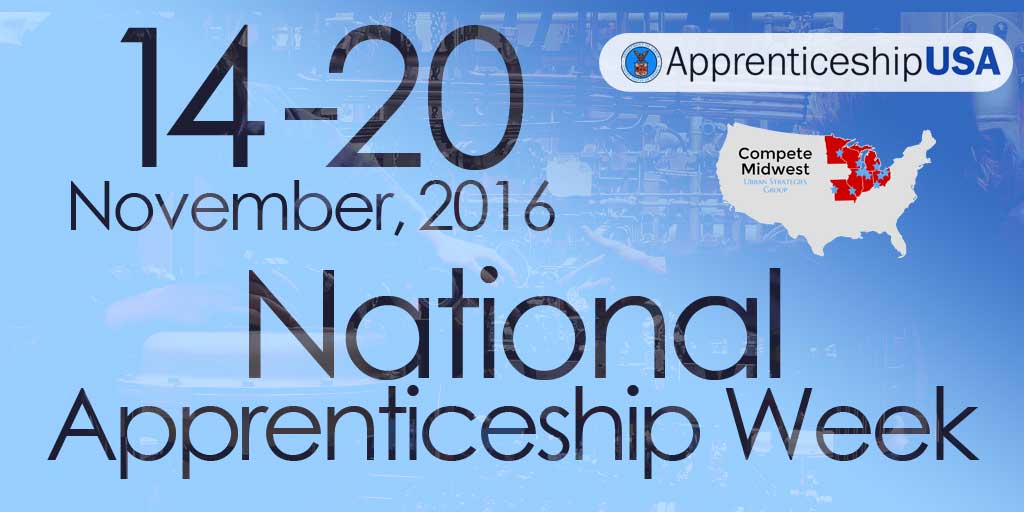 ST. LOUIS –The St. Louis Agency on Training and Employment (SLATE) American Job Center, in partnership with the U.S. Department of Labor (DOL), invites the public and our partners and stakeholders to commemorate National Apprenticeship Week (November 14 - 20, 2016). This weeklong celebration will emphasize the importance and benefits of apprenticeship career pathways while highlighting apprenticeship programs overseen by SLATE. 
National Apprenticeship Week was initiated by President Obama in 2015 to expand and support apprenticeships through the ApprenticeshipUSA initiative. According to DOL, since President Obama's 2014 State of the Union address when he challenged employers and educators to double the number of apprenticeships by 2019, the U.S. has had the largest growth in apprenticeships in nearly a decade. More than 400,000 apprentices nationwide are currently working with more than 150,000 employers.  
The apprenticeship model works across thousands of occupations, including construction, manufacturing, healthcare, information technology (IT), retail and more. At their core, apprenticeships offer flexible innovative training solutions through an 'earn and learn' model which combines immediate employment with technical instruction and on-the-job learning. Simultaneously, for employers who establish apprenticeships within their organizations, such training offers continuous business growth, a more diverse workforce, heightened productivity and reduced turnover. 
Community awareness and increased participation in apprenticeships will allow many St. Louisans to better their careers and lives. Stacey Fowler states: "Apprenticeships have always been seen as another word for 'blue-collar', but this is definitely changing. New apprenticeships are being developed in all industries to match jobseekers' interests and abilities." 
In 2014, SLATE helped create Building Union Diversity (BUD) in cooperation with local organized labor and the Metropolitan St. Louis Sewer District (MSD). BUD is a pre-apprenticeship program that helps young men and women explore different construction trades.  
Last year, as part of the Compete Midwest American Apprenticeship Initiative Grant Program, SLATE developed a House of Apprenticeships –which includes more than seven (7) Registered Apprenticeships for job seekers to enter various high-growth industries and solid careers. 
SLATE's current formal apprenticeship partnerships include Ranken Technical College (Advanced Manufacturing and Automotive Technician), Explore St. Louis (Conventions and Tourism), Urban Labs Diagnostic Healthcare Solutions (Phlebotomy and Laboratory Technician), LUME Institute (Early Childhood Education), BLUE|1647 (IT), Launchcode IT), 24:1 (Non-Union Construction), HOSCO Shift (Agri-Culinary) and Peoples Community Action Agency (Customer Care). In addition, SLATE is continuing to develop new apprenticeship partnerships. 
SLATE's planned activities for National Apprenticeship Week are as follows: 
Monday, November 14, 2016, 9 a.m. - 3 p.m. House of Apprenticeships Open House. Visit with SLATE's Apprenticeship Coordinator, Gino Austin, and other staff to learn about apprenticeship opportunities. 
A press conference with Mayor Slay, SLATE and CVS Health will take place at 2 p.m. at the St. Louis Regional Chamber. CVS Health will receive their DOL certification as a Registered Apprenticeship for Pharmacy Technician.
Tuesday, November 15, 2016, 9 a.m. –noon. Apprentice Graduates 'Look Who's Working Now!' Talk Show. One-on-One Interview with Apprentices. 
Wednesday, November 16, 2016, 9 a.m. –2 p.m. The Day in the Life of a Pre-Apprentice. Panel discussion with current participants in pre-apprenticeship programs. 
A press conference with Mayor Slay, SLATE and BLUE|1647, 24:1, People's Community Action Agency, and HOSCO Shift will take place at 11:00 a.m. at SLATE. They will receive their DOL certifications as Registered Apprenticeships for their programs.
Thursday, November 17, 2016, 10 a.m. –noon and 1 p.m. –3 p.m. Welcome Schools and Women. Meet our apprenticeship programs representatives and participate in hands-on learning. 
Friday, November 18, 2016, 9 a.m. –11 a.m. and 1 p.m. –3 p.m. Let's Build an Electronic World. BLUE|1647 and LaunchCode will hold a joint demonstration of cutting edge technology. 
All events are free and open to the general public and business community. To find out more about the events, please email requests to
Stacey Fowler,
SLATE's Office of Innovation and Industry Engagement Manager, at
apprenticeships@stlworks.com.
More information can be found on our website,
www.stlworks.com.
Please note that events are subject to change.
Department:


St. Louis Agency on Training and Employment