This article is 5 years old. It was published on June 3, 2016.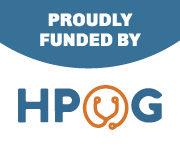 SLATE is participating in a U.S. Department of Health and Human Services Health Professions Opportunity Grant (HPOG) through a project titled Missouri Jobs, Education, Training &Support Services (JETS). This $14.9 million grant was awarded to the Missouri Department of Social Services to train workers for a variety of healthcare occupations. Kansas City and central Missouri are also receiving funding under the grant;over five years HPOG aims to serve 1,225 total participants.
To be eligible, potential participants must have an income under 200 percent of the federal poverty level, or $48,500 a year for a family of four. Those interested in applying for training can be unemployed, currently working in healthcare, or be employed in any other field, as long as they are at least 18 years of age and income is within this limit.
A total of 159 eligible applicants will be selected by random lottery to participate in this training opportunity each year, for a total of 795 St. Louis participants over the next five years. For those selected, SLATE will provide funding for tuition, on-the-job training, books and supplies, as well as supportive services, such as child care and transportation. Participants will be able to embark on high-demand professional career pathways such as Nursing, Therapies and Rehabilitation, Laboratory and Pharmacy, Emergency Medicine, Health Information Technology, Patient Care Support, and Administrative Support.
Increasing access of low-income populations to job training and giving them opportunities to move up a career ladder was among the recommendations in the Ferguson Commission report. With this goal in mind, SLATE has hired an experienced bilingual Outreach Specialist & Recruiter, Sergio Munoz, who will play an important part in engaging St. Louis' Hispanic community. "I actually worked at SLATE before, from 2001 to 2004," says Sergio. "I'm happy to be back, and look forward to serving anyone with an interest in a long-term career in healthcare." Sergio and five other full-time staff report to John Bogdajewicz, SLATE's HPOG Project Coordinator and Wanda Summers, the Project Manager.
As part of the HPOG partnership, SLATE and the St. Louis Workforce Development Board (WDB) are partnering with MO HealthNet Division, the Missouri Dept. of Health &Senior Services, Missouri Hospital Association, Missouri Community College Association, Kansas City WIB, Missouri WIB, and SSM Health,a leading provider of healthcare in Illinois, Missouri and other states.
Interested individuals are invited to attend upcoming orientations scheduled for June 10 and July 8, from 10 to 12 noon, here at SLATE.
This document was supported by Grant 90FX0050-01-00 from the Administration for Children and Families, U.S. Department of Health &Human Services (HHS). Its contents are solely the responsibility of the authors and do not necessarily represent the official views of HHS. HPOG is a study funded by the federal government which is being conducted to determine how these training opportunities help people improve their skills and find better jobs. During the study, all new eligible applicants will be selected by lottery to participate in these training opportunities. Not all eligible applicants will be selected to participate in these opportunities.
Department:


St. Louis Agency on Training and Employment