This article is 5 years old. It was published on December 5, 2016.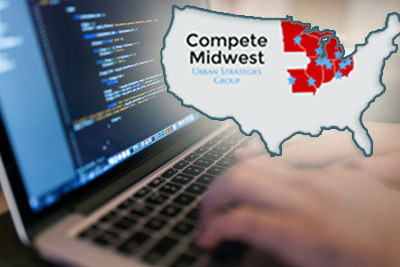 ST. LOUIS –The St. Louis Agency on Training and Employment (SLATE) American Job Center announces receipt of
$977,793
in grant funds, made available through the U.S. Department of Labor (DOL), to help individuals pursue the education and training necessary to advance their careers or obtain employment. SLATE was part of a group, led by Employ Milwaukee and consisting of Kansas City, Chicago, Minneapolis, Gary (Indiana), Detroit, and Milwaukee, that applied under the America's Promise grant opportunity. The grant has been titled the
Compete Midwest America's Promise Alliance (CMAPA)
; the total amount awarded across all participating cities was $6 million. 
To implement CMAPA in St. Louis, SLATE will enroll/train 250 participants –unemployed, underemployed, and incumbent workers, with special emphasis on low-income/disadvantaged populations. They will be provided with financial assistance to earn a degree or credential necessary to obtain middle- to high-skilled jobs. CMAPA will also coordinate key regional stakeholders to design new training and employment schemes, enhance participation of local businesses in hiring and retaining talent, and integrate efforts to fully leverage the cost of case management and supporting services among CMAPA's partners.  
Participants must be 16 years or older and not currently in school. More than 1,430 individuals will be trained through this grant over the four (4)-year period.
CMAPA's primary goal of growing regional economies will be achieved by targeting high-demand industries with significant projected growth. These industries include Advanced Manufacturing, Financial Services, Healthcare, and Information Technology (IT), as well as IT-related occupations.  
"We have developed a program that will strengthen and help grow economies and workforce not only in St. Louis but the Midwest region at large. Strategic and planning efforts are better done in collaboration - regional partnerships work across the state lines to efficiently use resources and learn best practices from each other," said Michael K. Holmes, SLATE's Executive Director. 
SLATE will be engaging participants in American Job Centers either through traditional adult and dislocated worker programs or as referrals from partner education and training providers and employers. On-the-Job Training (OJT) will be essential element to the service strategy, based on options that are the best fit for each participant. Targeted occupations include Financial Analyst, Personal Financial Advisor, Industrial Machinery Mechanic, Computer Controller, Pharmacy Technician, Registered Nurse, Medical Assistant, Medical/Clinical Technologist, Medical Records Coding, Computer Support Desk, Computer Systems Analyst, Software Developer, Computer Programmer, and Cyber Security. 
Nationwide, $100 million was made available through DOL to expand education and training programs and pilot/scale up innovative tuition-free partnerships between employers, economic development, workforce boards, community/technical colleges, and community-based organizations. To date, SLATE received commitments from employers and employer associations including the St. Louis Regional Chamber, Missouri Enterprise, Hunter Engineering, BioGenerator, BacterioScan, and the Donald Danforth Plant Science Center and two training providers, St. Louis Community College and Ranken Technical College.  
The CMAPA grant award was one of 23 awarded and the highest allowed under this opportunity. This is the third successful regional coalition SLATE has been a part of with Employ Milwaukee;the first two were American Apprenticeship and TechHire. 
Outreach activities and recruitment of participants for CMAPA will be announced in the near future. Additional info will be found on our website,
www.stlworks.com,
as it becomes available. 
Department:


St. Louis Agency on Training and Employment