This article is 7 years old. It was published on April 20, 2015.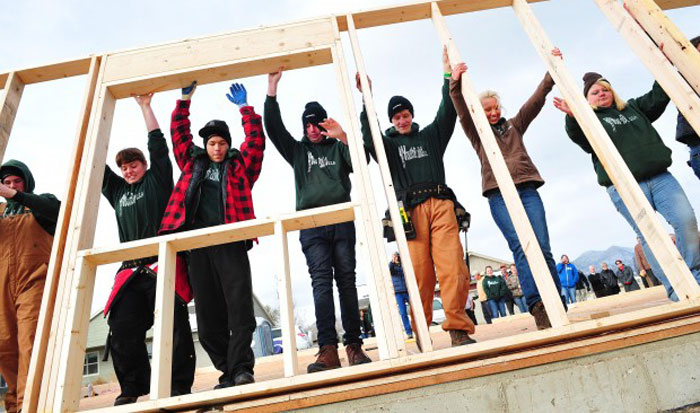 YouthBuild will employ 75 people ages 16-24 through a $1 million Department of Labor grant secured by the St. Louis Agency on Training and Employment (SLATE).
YouthBuild, the community-based alternative education program, targets young people who may be struggling –perhaps they've been in trouble with the law or dropped out of school –but who are looking for a second chance and a positive direction for their lives.
Through a partnership with Ranken Technical College, dedicated learners and workers will receive valuable job skills, put them into action, and get paid for doing so. Emphasis is placed on leadership development, financial literacy, academic enhancement, technical skills training in construction, community service, and securing permanent employment.
"Youth Builders will be able to see the physical progress of their work, giving them something to take pride in as they help to establish themselves in a new career while also helping to reshape their neighborhoods," Mayor Francis Slay said. "This is the latest example of creating job opportunities, and even more importantly, sustainable career paths for a new generation."
Mario Lopez, a father of two, described YouthBuild as a helping hand up the ladder of opportunity.
"With YouthBuild the possibilities are endless," Lopez said. "YouthBuild has opened the door for a brighter future for me and my two young kids."
Youth Builders will work on homes alongside members of the Associated General Contractors of St. Louis, which represents dozens of organized labor unions. These contractors and laborers will provide advice and expertise to the program.
"Ranken is extremely excited about this partnership," Ranken President Stan Shoun said. "The opportunity to help local residents learn skilled trades while they rebuild the City's 5th Ward is a goal we proudly undertake."
"YouthBuild will directly connect to the ongoing efforts by so many organizations to renew our urban core," Michael Holmes, Executive Director of SLATE, said.
A number of other partners will assist with strategic direction, recruitment, support, evaluation or job development as part of one or both grant-funded projects. They include the Associated General Contractors (AGC) of St. Louis, Construction Career Center, St. Louis Public Schools, the St. Louis Development Corporation, the Missouri Division of Youth Services, St. Louis Job Corps, Preferred Family Health, the Small Business Development Center (SBDC), the 22nd Circuit Court Juvenile Division, the St. Louis City Juvenile Detention Center, Missouri State University and the local St. Louis Workforce Investment Board (WIB).
This project dovetails with the City's Building Union Diversity (BUD) program, which introduces minorities and women to nearly a dozen of the building trades in a pre-apprenticeship format. The first class graduated nine people. Eight of them already have full-time jobs. Graduates of the YouthBuild program will also be encouraged to apply for the BUD program, or, they may be qualified enough to apply directly to the building trades apprenticeship program.
SLATE will recruit and hire individuals for both the YouthBuild and the BUD programs.
Department:


St. Louis Agency on Training and Employment
Office of the Mayor


Topic:


Youth Employment