This article is 5 years old. It was published on February 5, 2016.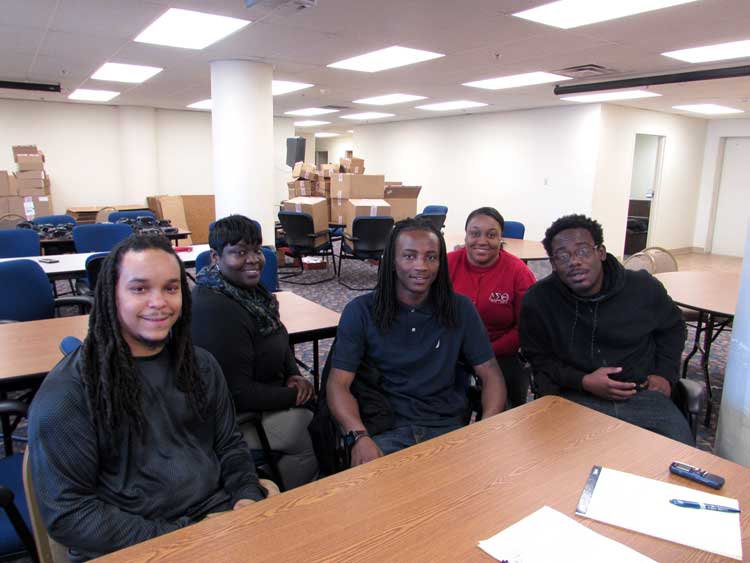 Low-income young people in St. Louis have the energy, talent and intelligence to succeed, but barriers and lack of opportunity prevent them from fully realizing their potential. A press conference held on April 20, 2015 formally welcomed the YouthBuild-Northside Regeneration program to the City of St. Louis to help address these issues. The Department of Labor awarded $1.1 million to the St. Louis Agency on Training and Employment (SLATE) last year to create a construction skills training program in partnership with Ranken Technical College. The program is committed to rebuilding the City's 5th Ward while helping local residents to learn skilled trades.
The funds are serving 75 disadvantaged youth ages 17- 24. City of St. Louis Mayor Francis G. Slay noted that "these grants are part of a broader effort to invest in the future of our nation's youth and give them a helping hand up the ladder of opportunity."
YouthBuild, a nationwide community-based alternative education program, targets young people who may be struggling –perhaps they've been in trouble with the law, dropped out of school or became a parent –but who are looking for a second chance and a positive direction for their lives.
Through a partnership with Ranken Technical College, dedicated learners and workers are receiving valuable skills, using them at work sites, and getting paid for doing so. Emphasis is placed on leadership development, financial literacy, academic enhancement, technical skills training in construction, community service, and securing permanent employment.
YouthBuild participants work on homes alongside members of the Associated General Contractors of St. Louis, which represents dozens of organized labor unions. These contractors and laborers provide advice and expertise to the program.
"YouthBuild will directly connect to the ongoing efforts by so many organizations to renew our urban core," Michael Holmes, Executive Director of SLATE, said.
At this time, four cohorts totaling 44 youth have graduated from the program with astonishing results –troubled youth embrace the opportunity to become responsible young adults with a commitment to work, education, family, and community. The program has taught them hands-on construction skills, while giving them a sense of personal responsibility and a willingness to give back to their neighborhoods.
Randy Bolden, 21, who previously struggled with attitude, underwent a life changing transformation after attending YouthBuild's 2-week 'mental toughness' workshop. "I had to suck up my pride and become a man. The program prepared me for the real world, it gave me a career to fall back on so I wouldn't have to be out on the streets making the same mistakes…I want to be a provider for my family, a role model for my little brothers and sisters," he said.
Now age 20, Michael Murphy, admitted to following the wrong path prior to YouthBuild and ending up in jail, alone and broke. "I make better choices now. I try to get everything done the way it supposed to be done and don't take shortcuts. This program makes you smarter," he said.
Overcoming barriers and keeping youth motivated can be a challenge, according to YouthBuild Coordinator, Shekima Hunter, but emotional as well as educational support is essential. Her staff act as a second family, a fact appreciated by participants. "When you get a great support system like this, you can't help but appreciate it and try to live up to it," Murphy said.
Mario Lopez, 23 and a father of two, was able to graduate the program in spite of problems with babysitters, agrees: "When I started missing days, they [mentors] immediately helped with child-care situation. YouthBuild program is a win-win because if you need employment and education, it will provide with both."
The program starts students with obtaining education or better education, enrolls them in the HiSET (high school equivalency) program, if needed. Once students pass their academic tests, they move on to learning construction skills in trades such as carpentry, electrical, drywalls, painting and others. Students receive a $7.65/hour stipend while they work on construction sites. After that, participants go through career building piece which prepares them for future employment in construction, and exit the program upon obtaining employment.
In addition to low-income African-American young men, the program has attracted a number of women –six of them will be graduating the program this year.
YouthBuild dovetails with the City's Building Union Diversity (BUD) program at SLATE, which introduces minorities and women to nearly a dozen of the building trades as pre-apprentices. Those who successfully graduate from the program are guaranteed an interview with one of eight participating unions for a full-time job.
BUD is achieving its goal of encouraging diversity and inclusivity in the building trades. The first BUD class started in fall 2014, with 18 young adults accepted into a seven-week pre-apprenticeship program run by union apprentice instructors. BUD holds four classes per year. To date, over 25 people have graduated the program, almost all already have full-time jobs.
Other partners assisting with strategic direction, recruitment, support, evaluation or job development of these efforts include the Associated General Contractors (AGC) of St. Louis, Construction Career Center, St. Louis Public Schools, the St. Louis Development Corporation, the Missouri Division of Youth Services, MERS/Goodwill Industries, St. Louis Job Corps, Preferred Family Health, the Small Business Development Center (SBDC), the 22nd Circuit Court Juvenile Division, the St. Louis City Juvenile Detention Center, Missouri State University and the local St. Louis Workforce Development Board (WDB).
"YouthBuild is more than a training program, it is where the seeds of hope, confidence and lifelong success are planted. The true impact will last many years and decades into the future," said Rosalind Mack, MERS/Goodwill Industries.
To connect to the YouthBuild Program, call (314) 622-3233
Photo (left to right): Mario Lopez, Shekima Hunter, Michael Murphy, Fredrecka McGlown, Randy Bolden.
Department:


St. Louis Agency on Training and Employment