Participate in the Missouri Work Assistance Program
The MWA program helps beneficiaries of temporary cash assistance to move from welfare to self-sufficiency and personal responsibility.
On This Page
Overview
Missouri Work Assistance (MWA) program offers employment and training assistance to individuals receiving cash payments through Temporary Assistance to Needy Families (TANF). The program will provide assistance with job leads, resume writing, interviewing skills, GED, on-the-job training, transportation, Vocational Education, and child care.
When you participate in this program, you will be assigned to a Career Specialist, who will assist you with developing a plan for your future job/career.
Preparation
Prepare to provide the following documentation:
Stamp Verification Letter from the Family Support Division (if you received food stamps any time during the past six months)
Supplemental Security Income (SSI) Award Letter
Proof of Receipt of TANF or Public Assistance Record
You can use this checklist to ensure you have all the documentation you need.
Instructions
Call Deyna Jones at the number below to inquire about participation in the program.
What to Expect
Program participants will take the following steps:
Individual Employment Plan (IEP)
Looking at your career goals will begin with the completion of an Individual Employment Plan (IEP). You will be assigned to a dedicated Career Specialist who will assist you with developing a plan for your future job/career.
Assessment
After the assessment is done, based on the results, you would be placed in one of the following activities:
Employment
Community Services (a skills building activity)
Vocational Education
Skills training
GED
Job readiness training
Job search
Employment
If based on the assessment you are employment ready, the Career Specialist will provide you with job leads until employment is obtained. The Career Specialist will also assist with resumes, child care, and transportation. Through our access to many resources in the community, we may be able assist with other barriers that come up that would prevent you from entering employment with success.
Community Service Program
The Community Service Program will give you the opportunity to gain skills through on the job training in a professional environment. The skills that you acquire and the company or agency you are working with can be used as a reference when applying for your next job. Community Service positions sometimes lead to full time employment with the company or agency you are placed with.
Contact
St. Louis Agency on Training and Employment
(314) 589-8000
1520 Market St., 3rd Floor,
St. Louis, MO 63103-2634
Monday, Tuesday, Thursday, Friday 8a.m.-5p.m., Wednesday 9 a.m.-5 p.m.
---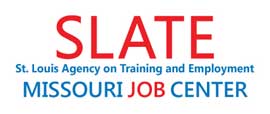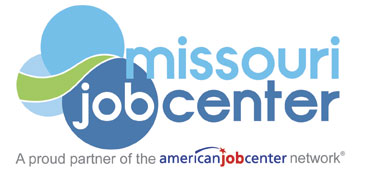 SLATE Missouri Job Center is an Equal Opportunity Employer and Service Provider. Auxiliary aids and services are available upon request to individuals with disabilities. If you need this information interpreted to a language you understand or in a different format, please contact 314-589-8000. Callers who are deaf or hearing or speech-impaired may reach us at Missouri Relay Number 711.
>> Equal Opportunity & Accommodations
>> Notice of Federal Funding and Federal Disclaimer
>> Babel Notice