Today, there are many businesses and organizations that will collect your used cartridges to be remanufactured or recycled.  Some places will refill your cartridges for you.  Or, you can purchase a do-it-yourself refill kit for a fraction of the cost of a new cartridge.  By reusing and recycling your cartridges, you can help conserve resources, reduce pollution, support jobs in the reuse and recycling industry, and in some cases earn money for schools, charities, or your own business.
Industry sources say more than 300 million cartridges end up in landfills each year.  That's more than 8 cartridges thrown away in the U.S. every second.  The following list includes businesses, and organizations that can help you reuse and recycle your used.
The City of St. Louis offers this list of retailers, which is not inclusive, to help residents reuse and recycle.  The City does not endorse any of these businesses or services.  Space does not allow us to include all organizations that may be applicable to this list.  The variety and availability of these services may change at any time.
Organizations located within the City of St. Louis are demarcated by the Arch decal.  Organization located within Missouri are demarcated by the state decal.
Cartridges Only

Champion For Children
Fax:  314.298.1504     Phone:  314.739.2514

Mail:  13761 St. Charles Rock Road, Suite 123, Bridgeton, Missouri 63044
Copier, fax, inkjet, laser, and toner cartridges are accepted.  Raise funds for your business, a local school. or a local charity of your choice.  They will provide collection containers.
Corporate Express
"...accepts all brands and all types of toner and ink cartridges for recycling.  To recycle the used cartridges, simply write "Recycle" or "Used" on the box (or whatever package you have) and give the product to the Corporate Express delivers driver when you receive your next order.  You may also call 1.888.CE.TODAY (1.888.238.6329) to schedule a pick-up.  There is no charge for us to pick up these items.  Corporate Express donates a $1.50 form every cartridge to Junior Achievement."
Empties4Cash.com
Fax:  714.259.8608     Phone:  800.456.4320

Mail:  1621 East Saint Andrew Place, Santa Ana, California 92705
Inkjet cartridges are accepted in return for cash back.  They will provide boxes with postage paid shipping labels.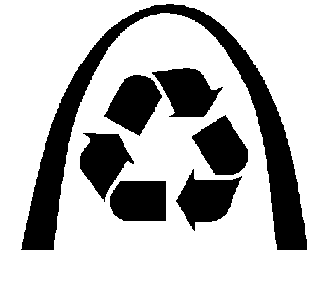 FedEx Kinko's
Fax:  314.776.6261     Phone:  314.776.2290

Mail:  3112 South Grand Boulevard, St. Louis, Missouri 63118
Drop off cartridges in their collection bin or pick up a postage paid shipping envelope.
HP
Phone:  800.340.2445
They accept inkjet and laser cartridges.

Jets N Toners
Phone:  314.256.9730
Mail:  Maryland Heights, Missouri 63043
They refill your empty ink and toner cartridges at minimal cost.  They also pay cash for selected empty inkjet cartridges.

National Laser & Ink Jet Cartridge Service / AtLasta Specialty Ink Co., Inc.
Fax:  636.677.3813     Phone:  636.677.1900

Mail:  4600 South Square Drive, High Ridge, Missouri 63049
They accept ink jet and toner cartridges, for which they pay cash.
Cartridges and Cellular Phones
Mail:  416 Bryant Circle, Suite E, Ojai, California 93023
Mail:  380 East Bayfront Parkway, Erie, Pennsylvania 16507
E-mail:  866.473.8446
Mail:  1244 Saline, North Kansas City, Missouri 64116
Phone:  866.481.2634
Mail:  5438 Eden Drive, Evansville, Indiana 47715
Phone:  314.776.7608
Mail:  4621 Chippewa Street, St. Louis, Missouri 63116
Mail:  20724 Lassen Street, Chatsworth, California 91311
Mail:  128 Chesterfield Commons East Road, Chesterfield, Missouri 63005
Mail:  451 West 69th Street, Loveland, Colorado 80538
Mail:  9815 Independence Avenue, Chatsworth, California 91311
Phone:  866.473.3733
Mail:  1560 Newbury Road, Suite 1-412, Newbury Park, California 91320