Carondelet
Carondelet general boundaries are defined as Walsh St. on the North, southward to Virginia Ave. eastward to Eichelberger St., southward to the Mississippi River on the East, westward to E. Nagel Ave., southward to S. Broadway, westward to E. Robert Ave., on the South, northward to Virginia Ave. westward to Robert Ave. southward to Alabama Ave. westward to River City Blvd. to Interstate Highway 55 (I-55) northward to S Grand Ave. eastward to Loughborough Ave. northward to Interstate Highway 55 (I-55) westward to Holly Hills Blvd. northward to S. Grand Blvd on the West to Walsh St.
Useful Contacts
Aldermen
Neighborhood Improvement Specialist(s)
Citizens' Service Bureau
Parks in Carondelet
Originally known as Riverside Park, it was later renamed Bellerive Park in honor of the early French governor of Saint Louis. It was purchased as a terminus for Bellerive Boulevard and to provide a scenic viewpoint for a fine riverscape vista.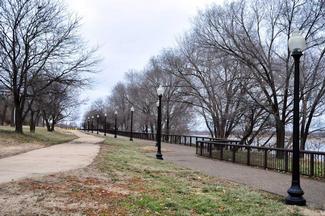 Nestled along the bank of the Mississippi River at Elwood just east of Broadway
4 comments from people like you have helped us improve this page. Keep the feedback coming!