Columbus Square
Columbus Square general boundaries are defined as Cass Ave. on the North, southward to Interstate Highway 70 (I-70), on the East, westward to Cole St. on the South, northward to N. Tucker Blvd to N. 13th St. on the West to Cass Ave.
Useful Contacts
Aldermen
Neighborhood Improvement Specialist(s)
Citizens' Service Bureau
Parks in Columbus Square
The park is really just a concrete and paver surfaces in a varied pattern with patches of grass and a few trees. There are cool looking stone benches and a monument dedicated to local politicians.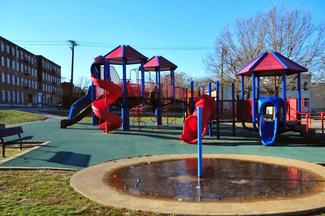 From the Missouri History Museum:
12 comments from people like you have helped us improve this page. Keep the feedback coming!