Compton Heights
Compton Heights general boundaries are defined as Interstate Highway 44 (I-44), on the North, southward to Nebraska Ave. on the East, westward to Shenandoah Ave. on the South, northward to S. Grand Blvd. on the West to Interstate Highway 44 (I-44).
Useful Contacts
Aldermen
Neighborhood Improvement Specialist(s)
Parks in Compton Heights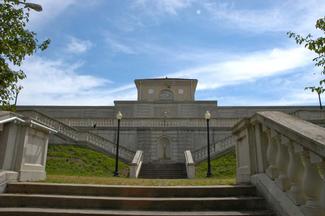 Located at Grand and Russell Avenues on the east side of the street, the large reservoir wall was designed by Guy Study. The arrangement of steps and wall fountains is in the manner of those in the gardens of Italian villas. Two bronze tablets on either side of the steps on the west wall give all of the historic information about the reservoir.
2 comments from people like you have helped us improve this page. Keep the feedback coming!