Downtown
Downtown general boundaries are defined as Cole St. on the North, to Interstate Highway 70 (I-70) Northward to Carr St. southward to Leonor K. Sullivan Blvd on the East, westward to Chouteau Ave. on the South, northward to Tucker Blvd on the West to Cole St.
Useful Contacts
Aldermen
Neighborhood Improvement Specialist(s)
Citizens' Service Bureau
Parks in Downtown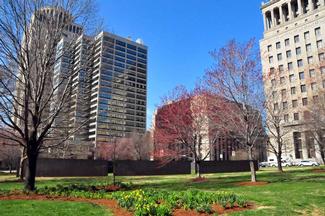 The Serra Sculpture Park is one of a series of six parks along Market Street in the Downtown West Neighborhood. Working west from Tucker Boulevard and Market Street you have Poelker Park, Washington Square Park and Kaufmann Park, Memorial Plaza Park, Aloe Plaza and Aloe Plaza West.
4 comments from people like you have helped us improve this page. Keep the feedback coming!