Forest Park Southeast
Forest Park Southeast general boundaries are defined as Interstate 64/U.S. Highway 40 on the North, southward to Vandeventer Ave. on the East, westward to Interstate Highway 44 (I-44) on the South, northward to Kingshighway Blvd on the West to Interstate 64/U.S. Highway 40.
Useful Contacts
Aldermen
Neighborhood Improvement Specialist(s)
Citizens' Service Bureau
Parks in Forest Park Southeast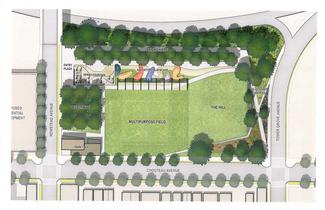 Chouteau Park is just largely a graded field, awaiting funds to become a fully realized park space. The design was done by H3 studios in 2009.
4 comments from people like you have helped us improve this page. Keep the feedback coming!