This article is 11 years old. It was published on January 1, 2012.
The winner and finalists of Mayor Francis G. Slay's annual Holiday Card Design Contest were honored at a reception in City Hall last month.  Ten-year-old Tatyanna Jackson from Humboldt Academy for Higher Learning submitted the winning design, which was featured on Mayor Slay's 2011 holiday cards.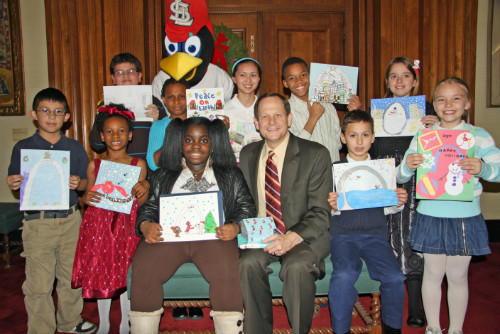 Pictured (front row l-r) are:  Alexander Mendieta-Olive, Honorable Mention, St. Louis Charter School; Tonyah Fisher, 2nd Runner-Up, Stix E.C.C.; Grand Prize Winner Tatyanna Jackson, Humboldt Academy; Mayor Francis G. Slay; Jeremy Bumbac, Honorable Mention, St. Louis Language Immersion School; Lucy Myerscough, Honorable Mention, Shaw VPA Elementary (2nd row l-r) Jose Acosta, Honorable Mention, Gateway Science Academy of St. Louis; Rosalind Robinson, Honorable Mention, Shenandoah Elementary; Sophie Schoenle, 1st Runner-Up, St. Stephen Protomartyr; Demond Fox, Honorable Mention, Woerner Elementary; and Meta Stephens, Honorable Mention, St. Roch School.  Special Surprise Guest for the children:  Fredbird.
Mayor Slay presented each student with a certificate of achievement, poster and gifts from local businesses, including Bissinger's.
"The Holiday Card Contest is one of my favorite holiday traditions," said Mayor Slay.  "I'm continually astounded by the artistic talent of our elementary students.  This year's winning design, featuring Fredbird and the Rally Squirrel playing baseball under the Arch, reminds us of the Cardinals' World Series win -- and the excitement felt in our City during that time."
Children 12 and under who live or attend school in the City of St. Louis were invited to submit a design for consideration in the contest.  Three hundred and thirty-two entries were received.
Mayor Francis G. Slay
City of St. Louis
Department:


Office of the Mayor