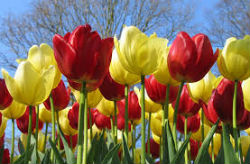 From the Brightside St. Louis Summer 2014 Newsletter:
 Everybody loves the beautiful blooms of Springtime in St. Louis!  Golden yellow daffodils and brightly-colored tulips make any garden more beautiful.  Plus, now you can add color into summer with "Purple Sensation" alliums and the longest-blooming daylily, "Stella d'Oro."
Brightside flowers can brighten your garden and make St. Louis neighborhoods more livable and downtown more vibrant as proceeds support Brightside's cleaning and greening initiatives.
Order today for your garden plus get some for your family and friends -- Brightside flowers make great gifts!
Carlton Daffodils - Lot:  50 bulbs only $16
Hybrid Darwin Tulips - Lot:  50 bulbs only $16
Purple Sensation Allium - Lot 12 bulbs only $9
Stella d'Oro Daylilies - Lot 12 plants only $20
You can order securely online at www.brightsidestl.org and pay through PayPal or call Brightside at (314) 772-4646 or mail in your order before the Sept. 20 deadline.
All prepaid orders will be available for pick up at the Forest Park Greenhouse on Friday, Oct. 10 from 11 a.m. to 6 p.m. and Saturday, Oct. 11 from 9 a.m. to 1 p.m.  Don't want to pick up your bulbs?  Request to have them shipped when you place your order. 
Orders not picked up during the allotted time will be considered a donation and planted on public property.
# # #
Department:


Brightside St. Louis