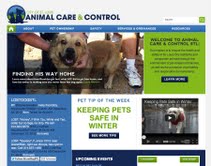 Animal Care and Control Launches Its New Website
As part of an overall improvement plan, the City of St. Louis Animal Care and Control (ACC) is excited to announce their new website: www.accstl.com . This new website is one of many great strides ACC has taken in the past few months, including relocating the ACC shelter and hiring a veterinary staff. This new website is intended to increase the promotion, education and outreach efforts of ACC.
On the new website, City of St. Louis residents will be able to find information about ACC services such as information about how to report stray animals and how to obtain a pet license and registration. The website will also provide resources relating to responsible pet ownership, safety around animals, as well as services and ordinances pertaining to companion animals. Most importantly, the website will include several links to other community resources, such as adoption services, low-cost veterinary services, and other pet-related programs and events. The website also links the community to ACC's presence on social media, including a "LostDogSTL" Twitter account and an ACC Facebook page.
Stacie Zellin, a Public Information Officer for the Health Department, says "a new website and social media presence are excellent tools for interacting with the public, and especially for communicating health messages. This website will also enable us to promote the programs and events of our pet welfare partners."
Many citizens and community leaders have been vocal in the past few years regarding the stray dog population of St. Louis. While ACC continues to improve their enforcement and sheltering operations, Pam Walker, Director of Health, argues that a single-approach solution will not be effective. "The purpose of providing these activities is aligned with the mission of public health, which is prevention," says Walker. "We need to address the underlying causes of pet overpopulation by promoting responsible pet ownership and encouraging citizens to spay and neuter their pets." Director Walker expects the new website to have an effect on the community.
Zellin adds, "Although many of the educational materials and messages we are trying to promote involve companion animals, there is still a core message of safety and health for both people and pets."Everyone is encouraged to check out the new site to see all that it has to offer.Please contact Stacie Zellin at 314-657-1486, or ZellinS@stlouis-mo.gov if you have additional questions about the new Animal Care and Control website.
Department of Health and Hospitals
City of St. Louis
Department:


Department of Health


Topic:


Health