This article is 8 years old. It was published on December 1, 2012.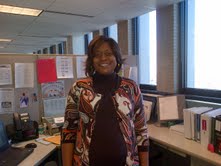 Congratulations to Angela Turner, Certified Asthma Educator!
Congratulations go out to Angela Turner in School Health, for achieving her certification as an Asthma Educator.This is not Turner's first certification; she is a Registered Nurse and a certified Health Education Specialist (CHES).So, why did she need this certification?Turner had both a personal and professional reason for becoming a Certified Asthma Educator. "I have always been interested in asthma and had some basic knowledge as a parent of a child with asthma," Turner said. However, "there were some things I did not know and was not taught, which inspired me to pursue my certification and offer this knowledge to other families." She applies her new knowledge as she reaches out to children with asthma and their families on a regular basis through the Asthma Friendly St. Louis program.
Becoming a Certified Asthma Educator is no small feat. To become one, candidates must pass a national exam focused on four main areas: the asthma condition, patient and family assessment, asthma management, and organizational issues. The exam is geared toward licensed or credentialed health care professionals or those who provide direct asthma education and counseling to patients. Becoming certified is voluntary but it is useful in standardizing the education given to patients to improve disease management. Educators carry forward the concept that asthma does not have to reduce quality of life when managed appropriately. By staying up-to-date in current research and the general body of knowledge, educators can identify key factors affecting an asthma diagnosis.
The first certification examination was offered in 2002 to about 100 candidates, and the number of those becoming certified has increased over the last 10 years. Recertification is required every 7 years. As of November 1, 2012, there were over 4,300 Certified Asthma Educators in the country, around 100 Certified Asthma Educators in the State of Missouri, and just 10 in St. Louis. The national pass rate on the exam is only 68.2 percent, so taking advantage of the materials and resources provided increases an applicant's chance of passing. "After submitting the application and payment, there are a lot of different resources that the board recommends. Studying is basically on your own, which may be difficult to some," Turner said.
"Through studying for the test I have gained a lot of knowledge and understanding about asthma. I now realize that there is a lack of communication between the provider and the patient. I felt like I was fairly educated as a parent and educator, but in actuality I was not. A lot of issues, like socioeconomic status, affect asthma severity and management. If I did not know the information, then I am sure most parents do not either," Turner shared. Because of her new certification, she now has additional knowledge to share with her clients.
Turner offered a bit of advice and encouragement to those preparing to take the Asthma Educator certification exam: "Those who are not health professionals need to have experience in this field. Having over 1000 hours of experience working with asthma patients, and an understanding of asthma medication is a plus. Do not underestimate the exam. It is important for any professional to have certifications, because through them you are allowed continuing education, study materials and resources from other professionals in that area. Additionally, it will give you the knowledge and support for the job you are doing. As an added benefit, having the certification can even lead to more funding for grants in the future. Being a Certified Asthma Educator makes you a better advocate for the community and the patients you serve," Turner said.
Department:


Department of Health


Topic:


Health