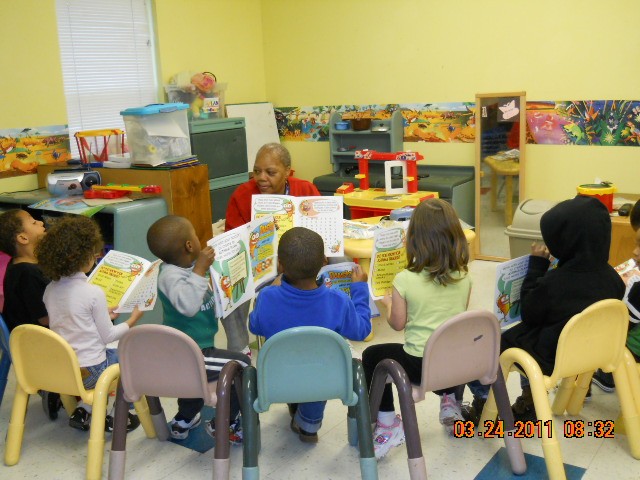 Public Health Nurse Mary Hawkins teaches children at Kim's childcare facility about asthma triggers.
The City of St. Louis Department of Health is teaming up with Southeast Missouri State University, the University of Missouri-Columbia, and the Missouri Department of Health and Senior Services' Early Childhood Asthma Initiative program to better manage asthma in children. Asthma is a very serious disease of the lungs that affects breathing and is the most common chronic disease of childhood. More than 120,000 children in Missouri have asthma. For children age 17 and younger within the City of St. Louis, the prevalence of asthma is 19.6%. If not properly managed, asthma could result in permanent damage and even be life-threatening.
The nurses and community health workers in the Bureau of Women, Children and Adolescent Health have been busy performing asthma environmental assessments on all City day care facilities during the past months and will be assessing the City's preschools soon. One main goal is to identify and eliminate the asthma triggers within those facilities. A second goal is to ensure that each facility has an asthma action plan for each child with asthma that will effectively and efficiently manage asthma attacks should they occur. Doing so may prevent a trip to the emergency room, but a proper plan will identify when the emergency room is an appropriate action.
Mary Hawkins, a public health nurse with the Bureau of Women, Children and Adolescent Health, is heading up the Department of Health's efforts to better manage asthma in children. As a part of the asthma assessment in day care facilities, she has assessed facilities, trained care providers, reviewed emergency plans, educated the children, and provided other resources in support of continued asthma prevention and control efforts. Hawkins says, "This program has the potential to provide education for childcare providers, parents, children and others in the community on asthma and asthma triggers. Hopefully, the end result will be to save lives. Asthma deaths are preventable."
Asthma cannot be cured, but it can be controlled. A key part of that control is identifying and eliminating the environmental elements that promote asthma attacks or "triggers". Common asthma triggers include furry and feathered animals, pests (cockroaches, mice, etc.), viral infections, pollen, dust and dust mites, food allergies, tobacco smoke, mold and mildew, weather and air pollution, as well as fumes, odors and strong scents. Even something beneficial like exercise can be a trigger for a child who is living with asthma. If you are interested in knowing more about this program or asthma prevention, please contact the Department of Health at (314) 657-1423 or 657-1445.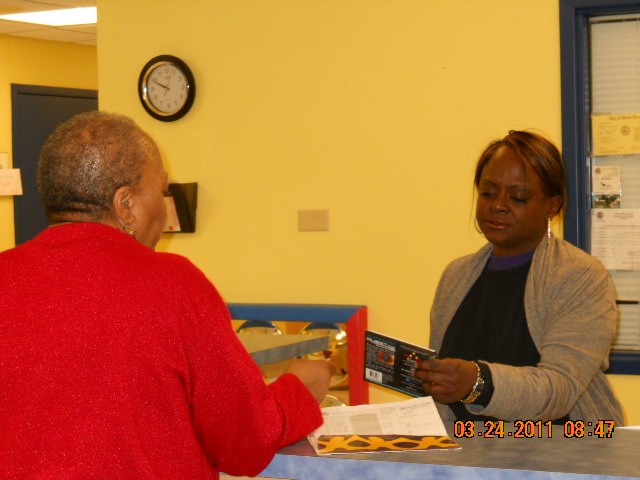 Nurse Mary Hawkins schedules additional training for the staff at Kim's Kids children facility and provides them with some asthma resources.
Department:


Department of Health


Topic:


Health