Health Department Reaches Out To College of Pharmacy To Help Respond to Emergencies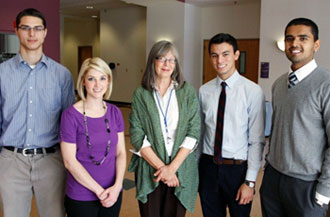 Patricia Curtis third from left
Members of St. Louis College of Pharmacy's Student Pharmacists Association (SPA) got a first-hand opportunity to learn about ongoing statewide efforts to ensure public safety if a large-scale health crisis or natural disaster were to occur in Missouri or the St. Louis region.
About 100 SPA members attended a recent presentation in Whelpley Auditorium by Pat Curtis, an emergency preparedness planner for the City of St. Louis Department of Health.
Curtis shared information about the Cities Readiness Initiative (CRI), a program aimed at enhancing preparedness in the nation's largest cities and metropolitan statistical areas where more than 50 percent of the U.S. population resides. It focuses on the dispensing of antibiotics using open pods (distribution sites that will be open to the general public) and closed pods (distribution sites operated by an employer to dispense medication to employees and their families).
Curtis explained how antibiotics will be received in the St. Louis region through the Strategic National Stockpile and administered through the pod system. She pointed out that traditional modes of medication distribution, such as at hospitals, public health clinics, urgent care centers, and community health clinics, will not be sufficient for the entire population in a short period of time. Curtis said the objective of the CRI is to ensure that antibiotics are provided to St. Louis residents within 48 hours.
"We need lots of help," she said. "This is my biggest plea when I speak to companies and community organizations – sign up and be part of what we're trying to accomplish in the event of a crisis. Your service, time, and efforts will be very much needed."
Curtis said students can volunteer through Show-Me Response, the Medical Reserve Corps, and the City of St. Louis Department of Health.
After meeting with students, Curtis brainstormed with a handful of STLCOP faculty members and local pharmacy leaders about ways pharmacists can assist in emergency situations.
Article and photograph by STLCOP student Bryan Daniels
Department:


Department of Health


Topic:


Health