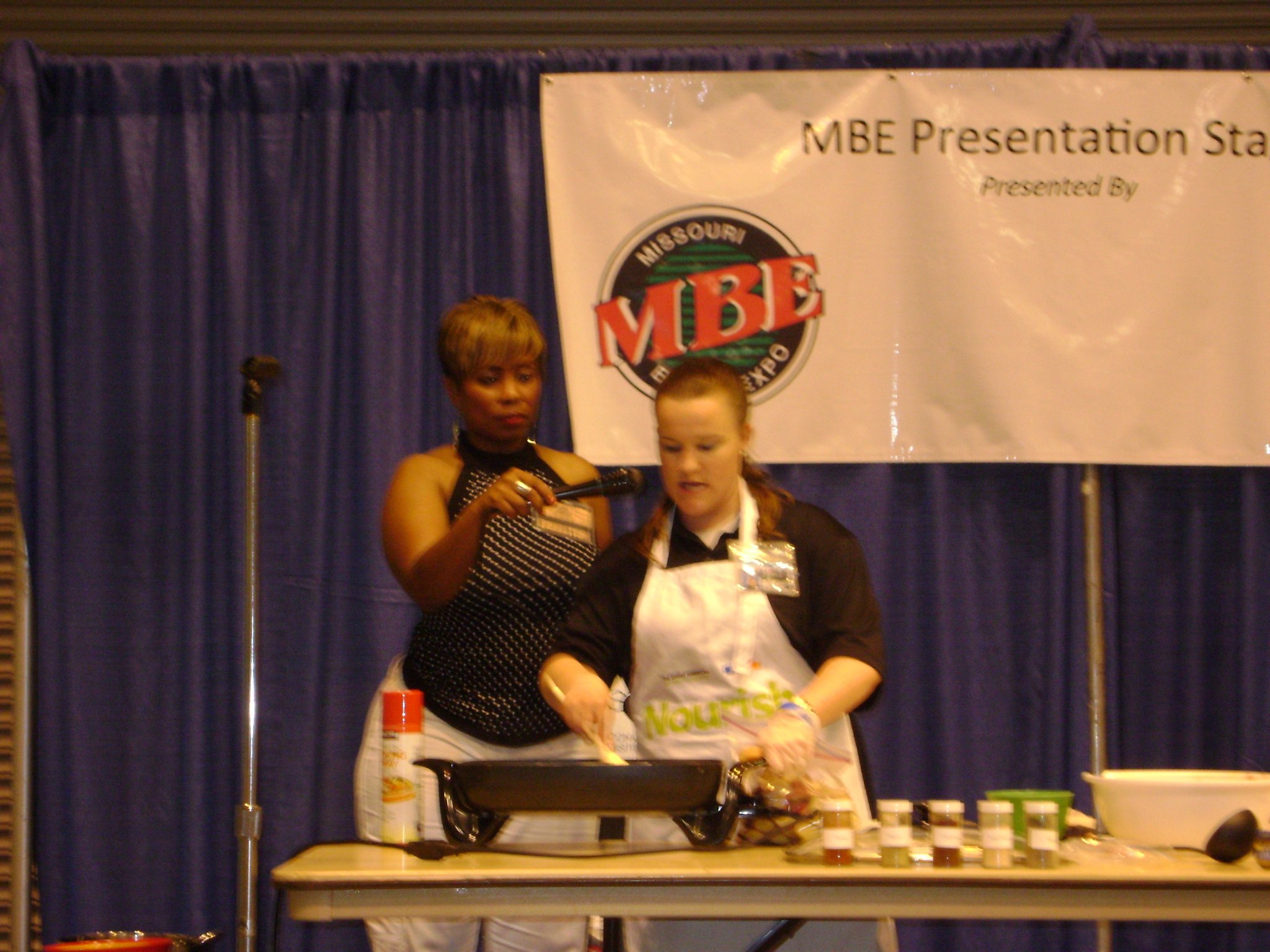 Healthy Cooking at the Black Expo
Overweight and obesity are big contributors to the increases currently noted in chronic diseases like heart disease, diabetes and high blood pressure. Those chronic diseases are wreaking havoc on the quality of life that many people experience. Nowhere is that impact felt more acutely than in the African-American community. African-Americans generally experience rates of chronic disease that are significantly higher than Caucasians.
Eating healthy can help prevent weight gain and the development of some chronic diseases. It can also assist in managing chronic diseases when they do exist. However, many people think that eating healthy is expensive, difficult to do, and doesn't taste very good. Nutrition Services proved those ideas to be false as they spotlighted healthy cooking during last month's Missouri Black Expo.
On Saturday, August 20th, registered dietitian Melissa Ramel of Nutrition Services focused on heart health. With the help of an audience member, Ramel demonstrated how to prepare two recipes, a beef skillet dish which included lots of colorful vegetables, and a fruit and yogurt parfait that incorporated the flavors of raspberries and pineapple with peach yogurt. Not only were both of the recipes easy to prepare, packed with nutrients, and heart-healthy, but the audience found them to be delicious too.
On Sunday, August 21st, Nutrition Services switched the focus to children and obesity prevention. Incorporating more vegetarian options into a child's diet is a great way to provide a healthier meal and cut down on the fat and excess calories that contribute to excess weight gain. Saint Louis University dietetic student and budding chef Rosa Gamboa took center stage at this cooking demonstration.
To prove how kid-friendly the recipes were, she recruited a young volunteer from the audience to assist in the demonstrations. For starters, Gamboa and her assistant prepared a nutrient-filled fruit and yogurt smoothie featuring soy milk, fresh peaches and strawberries. The smoothie received "two-thumbs up" from our young volunteer, and the audience quickly consumed every sample. Next they prepared a vegetarian skillet casserole featuring tofu and garbanzo beans that was also a total crowd pleaser.
Cooking healthy can be delicious. Cooking healthy can be easy. Cooking healthy can be done on a budget. With a good recipe and a few healthy ingredients, children and adults can prepare healthy meals and snacks that will enhance their health.
Nutrition Services is a community service that is available through the Health Institute of the City of St. Louis, Department of Health. The service is available to groups and community agencies. Cooking demonstrations and nutrition education can be provided on a variety of nutrition and health-related topics free of charge. If your agency is in need of any of those services, please call (314) 657-1571.
Department:


Department of Health


Topic:


Health