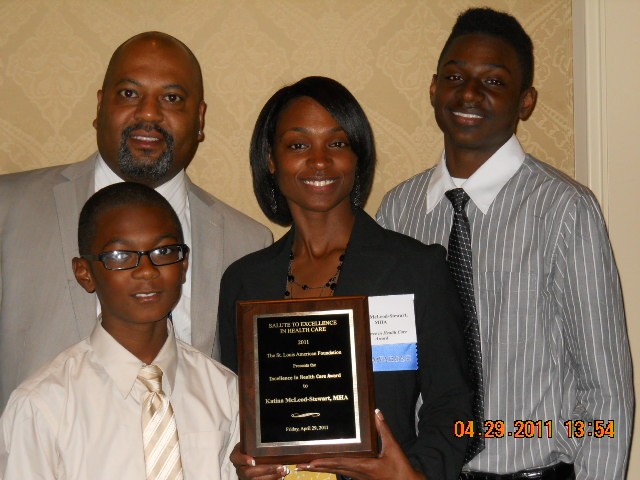 Congratulations go out to our own Katina Stewart, the Health Services Manager for the City of St. Louis Department of Health, Air Pollution Control Program! She was 1 of 8 recipients of the 2011 Excellence in Health Care awards, given out by the St. Louis American Foundation.  Regarding her award, Stewart said, "I am very excited to be given this opportunity and even more proud to be representing the City of St. Louis Department of Health!"
Stewart was selected based on her leadership and her initiative in many areas within the Health Department. She began her career with the St. Louis City Health Department as a supervisor in the Maternal Child and Family Health clinic in 1997. While assigned there, she initiated the automation of the managed care billing system resulting in time and cost savings for the clinic. In 2000, she was given the opportunity to work in the Air Pollution Control Division as an inspector. Her hard work soon led to a promotion to section chief of the Enforcement Program. As section chief, she completely reorganized the asbestos inspection process which eliminated the practice of illegal asbestos abatement projects within the City of St. Louis. She was later promoted to her current position of Health Services Manager for Air Pollution Control.
Stewart has a Bachelor of Science degree in Health Care Management from Harris-Stowe State University. In 2006, she earned a Master of Science degree in Health Administration from Webster University. She was also accepted into the Missouri Public Health Leadership Institute among a distinguished body of public health professionals from around the state. Being accepted into this institute further established her across the state as a health policy leader. In addition, Stewart is currently a member of the American College of Healthcare Executives (ACHE) and is seeking the distinction as a Fellow of this organization.
Stewart received her award at the 11th annual Salute to Excellence in Health Care luncheon on Friday, April 29, 2011 at 12:00 p.m. at the Ritz Carlton Hotel in Clayton.
The St. Louis American is one of the few newspapers in the entire country with its own 501(c)3 foundation, the St. Louis American Foundation. It shares the goal of all who seek to ensure adequate, affordable health care for all - underserved communities in particular. The Foundation recognizes some of the St. Louis region's leading African-American health care providers who are making a difference. The Salute to Excellence in Health Care luncheon provides an opportunity to provide relevant health education information for African-Americans, and encourage the pursuit of varied opportunities in the health care field.
Department:


Department of Health


Topic:


Health