This article is 8 years old. It was published on January 1, 2014.
 Mayor Francis G. Slay presented 40-year service pins to Candice Gordon and John Stacy in a brief ceremony last month in his office.  On hand for the ceremony were colleagues from Comptroller Darlene Green's office and the Department of Public Safety.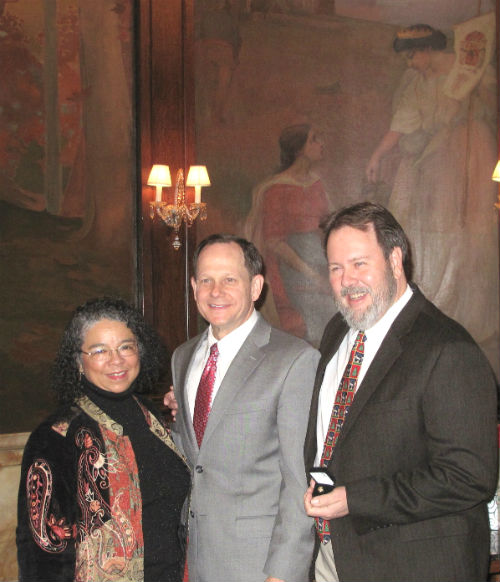 Candice Gordon began her career with the City in July 1973 when she signed on as a Clerk I with Homer G. Phillips Hospital.  Prior to joining the Comptroller's Office in December 1984, she worked as an Account Clerk I with the St. Louis Area Agency on Aging.  In her current position as an Accounting Officer for the Comptroller's Office, Gordon works in the Finance and Development Section where she participates in all facets of the City's debt issuances as well as ensuring compliance with continuing disclosure agreements, IRS, arbitrage rules and other authorities that regulate and govern Municipal Bonds.  Gordon also serves as a liaison to the Airport, representing the Comptroller's Office on many selection committees, Airport insurance and other meetings.  She is also the chairperson of the Program Review Committee which is the certification board for the City's M/W/DBE program.
Gordon says the best part about her job is "watching the success and growth of Minority Businesses and the fruition of capital projects is one of the more fulfilling aspects of my job."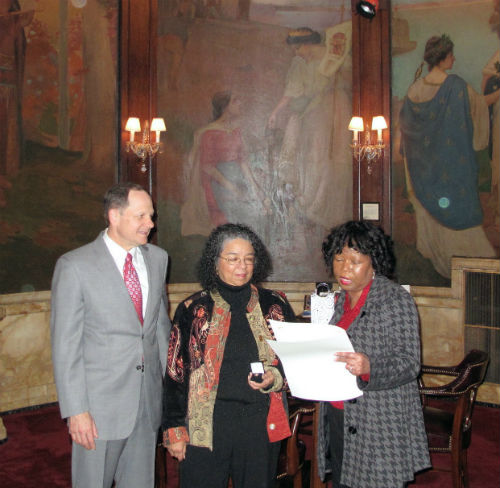 During the ceremony, Ivy Neyland-Pinkston, Deputy Comptroller - Finance and Development, reads a proclamation from Comptroller Darlene Green, congratulating Gordon on her achievement.
John Stacy began his career with the City in July 1973 as an Electrician with the Department of Public Safety and has served as Electrical Inspector I & II and Electrical Inspection Supervisor.  In 2001, he attained one of the highest possible levels of professional certification -- "Certified Electrical Code Official."  Stacy currently serves as Section Head of the Electrical Inspection Section of Building Division.  Present during the presentation were:  Public Safety Director Charlene Deeken, Building Commissioner Frank Oswald, Deputy Commissioner Randy Mourning and Building Insp. Supervisor Ed Ware.
Congratulations, Candice and John!
Mayor's Office
City of St. Louis
Department:


Office of the Mayor


Topic:


Employees